Comfort to Families
The following are four of the pictures that we will be adding. All are drawings of Children that have passed away. Micahlie, Brian, Jason and Cambria. The feeling in these drawings is a little different than the others. They were done not so much to show the interaction of Jesus with others, but more to bring peace and comfort to families with a visual of their child safe in the arms of the Savior. Micahlie, the little girl, had downs syndrome. She was famous for her "Miss America" wave. The second is Brian. Brian was a healthy, normal little boy who one day started running a fever. He died within 24 hours. They were never able to determine the cause of death. The last two children, Jason and Cambria, had cerebral palsy. Jason was well into his teen years in this portrait. Cambria's disease was not as severe, but she died much younger. Although we believe that these children were made whole upon entering God's Kingdom, their families wanted them to be drawn as they knew them. I have had such a call for children with disabilities, so that is why I chose Micahlie, Jason, and Cambria. I think that those that know children with illness or disabilities will recognize the look of disease in these particular children.
These are actually not new drawings, just a few of the hundreds that she as been commissioned to do. I had to actually talk Jean into letting me market these. She worried that they would be a disappointment to those that have come to expect a certain feeling from her work. We contacted the families that had commissioned Jean to do the drawings and they were happy to allow them to go into printing. They have even said that when I post them they will write a little note about their child, and offer support to other families that have suffered similar losses. I hope that there will be those that will enjoy what these drawings have to offer. I think that these prints are more about the love that Jesus has for everyone - regardless of race, how they look, or of their disabilities. He would touch and hold each one with the same love in His heart. The example for every adult and child.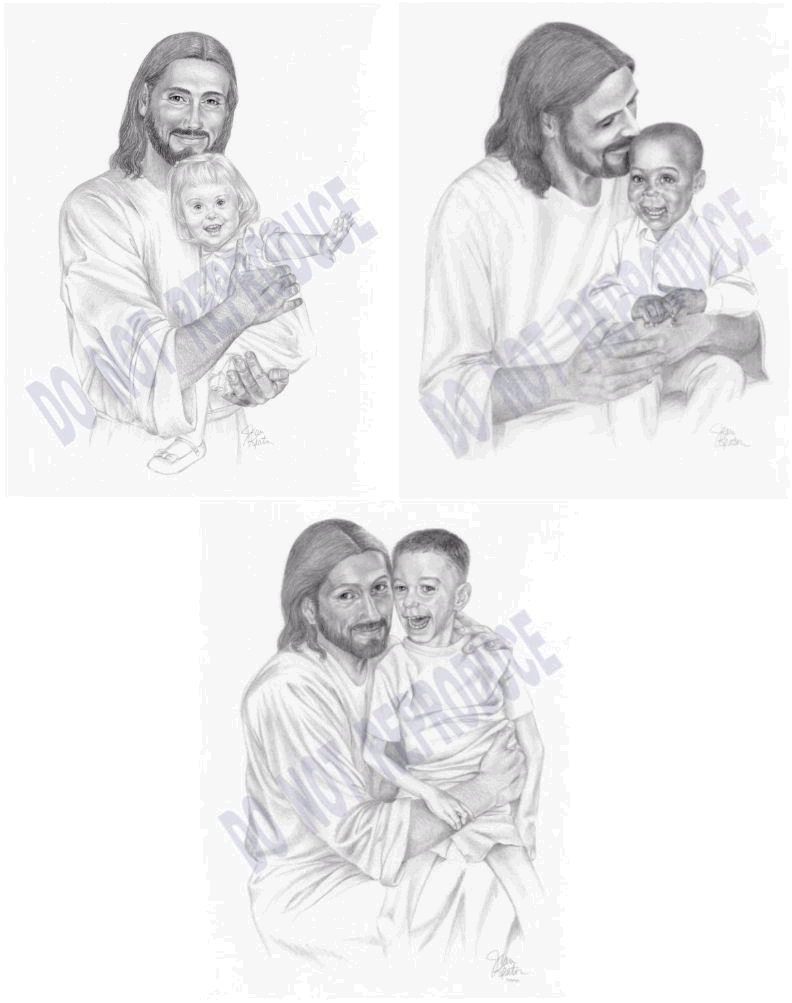 To obtain these prints, go to
http://www.keatonprints.com/index.htm
Contact them by email for pricing.
A friend directed my attention to the beautiful pencil sketches of Jean Keaton. They are spiritually uplifting and I wish to share them with everyone. These pages are intended to introduce you to this wonderful person and her work.

Grandpa Don

Graphic used with permission.
© Jean Keaton
http://www.keatonprints.com


Comfort to Families

The World of Grandpa Don
www.plefka.net

Free JavaScripts provided
by The JavaScript Source