My Father Wrote ...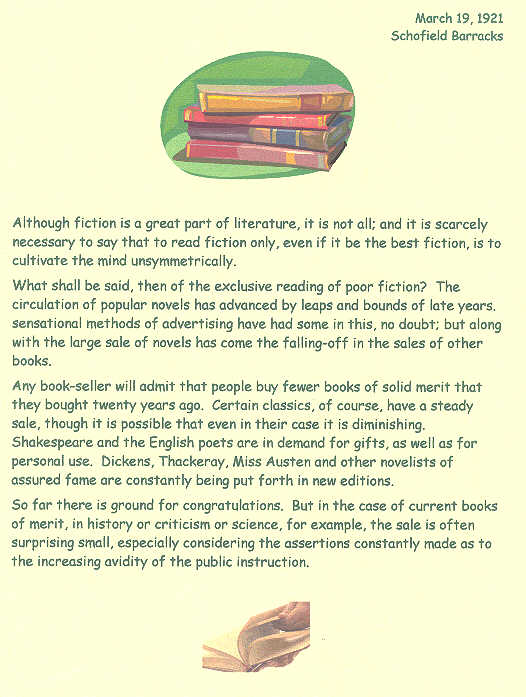 This was written in the days of the proliferation of the "Dime Novel" and some of this literature, if it could be called that, was pretty bad. My father thought that if you were going to read something to pass the time, it may as well be something worth while. If it was fiction, at least it could be well written, possibly with a moral message.
However, he advises us to go beyond mere stories but to actually read to improve our minds and impart knowledge. I am pleased to find that he and I are in total agreement. My (adopted) mother impressed on me the value of reading. She read to me before I could do it myself and books were frequent gifts as I grew. I love to read and to read as my father would approve.
Since the page had no title I named it "What Do We Read" My sister Marilyn Copeland transcribed our father's words and added the very appropriate graphics.
What Do We Read?
by Alden J. Copeland

Shortly after my introduction to my younger brother and sisters, the Copeland family, in the fall of 2006, my sister Marilyn Copeland sent a copy of "The Return". It was a poem written by our Father. At Christmas of 2007 Marylyn assembled a book of his compositions adding graphics as shown here. .

They have given me an insight into the father I never knew and I share some of them on these pages.

Donald J Plefka
a.ka. Grandpa Don

This work by Alden J. Copeland is the property of my Copeland brother and sisters and, as his children, they retain the copyrights on his works. You may link to these pages but may not copy or publish his work in any media without their expressed permission.

Return to "My Father Wrote" main page
The World of Grandpa Don
Home Page

Free JavaScripts provided
by The JavaScript Source