My Father Wrote ...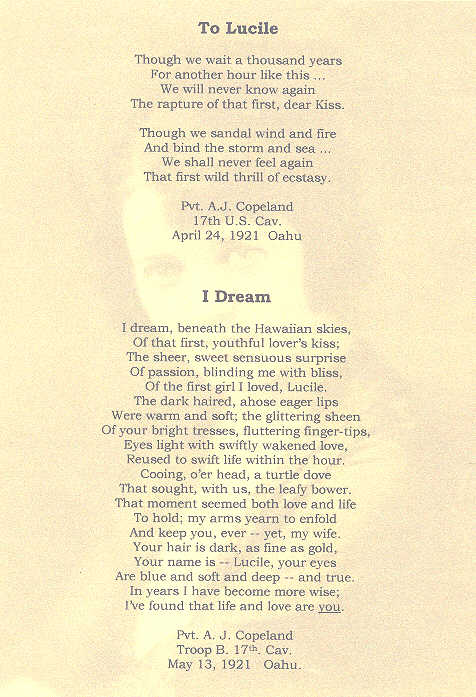 When reading these poems, the Copeland family never knew that Lucille was an actual person. Then I came along. The name acquired meaning when they discovered that their newly discovered half brothel's mother was know as Lucile. If there was any doubt, the description in the "I Dream" confirms it. The first question asked of me when I was put in touch with my mother's family was about the color of my eyes. I have been endowed with the "Lossner eyes", the blue that is typical of her and her family. Her hair, fine, dark and long in her youth is also described in the poem.
My sister Marilyn lifted her picture from this web site and used it as the background for this page. It had to be her.
At first we thought that Al and my mother met in the time between his marriage to Edith Elsholz and their mother, Sue Polinchek, possibly about 1929. The poems were written in 1921 while Al was in Oahu, Hawaii His unit left the mainland in April of 1919 and so he must have known my mother before then. In April of 1919 Lucille was not yet 15 years old and Al was almost 19. The poems speak of a "first kiss" and "youthful lovers". Indeed! "I Dream" recalls his "first love".
Thanks again to my sister Marilyn Copeland for applying the graphics and preparing this page, most of all for sharing it with us.
To Lucile & I Dream
by Alden J. Copeland

Shortly after my introduction to my younger brother and sisters, the Copeland family, in the fall of 2006, my sister Marilyn Copeland sent a copy of "The Return". It was a poem written by our Father. At Christmas of 2007 Marylyn assembled a book of his compositions adding graphics as shown here. .

They have given me an insight into the father I never knew and I share some of them on these pages.

Donald J Plefka
a.ka. Grandpa Don

This work by Alden J. Copeland is the property of my Copeland brother and sisters and, as his children, they retain the copyrights on his works. You may link to these pages but may not copy or publish his work in any media without their expressed permission.

Return to "My Father Wrote" main page
The World of Grandpa Don
Home Page

Free JavaScripts provided
by The JavaScript Source