My Father Wrote ...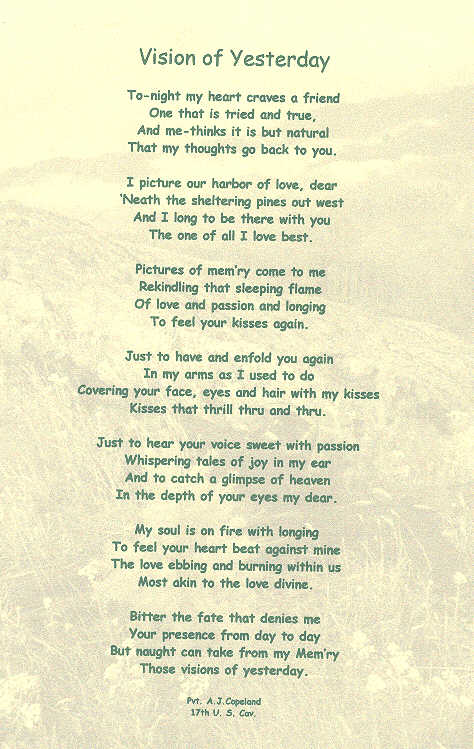 A military man, far from home, yearns for the love of his life. Did Al have someone in particular in mind when he wrote this lament of love or was it a 'generic' poem having place himself of the shoes, and hearts, of every other military man as we have seen in some of his previous works? We don't know ... he gives no clue.
Then again, it may be a bit of both. As we will learn from the next two poems recorded in this series, he did yearn for a love left behind and a writer's best work is based on his own experiences.
I only wish that I had written it back in the 50's and sent it too Anne. I wish I could send it to her right now. Thanks dad.
Thanks again to my sister Marilyn Copeland for applying the graphics and preparing this page, most of all for sharing it with us.
A Vision of Yesterday
by Alden J. Copeland

Shortly after my introduction to my younger brother and sisters, the Copeland family, in the fall of 2006, my sister Marilyn Copeland sent a copy of "The Return". It was a poem written by our Father. At Christmas of 2007 Marylyn assembled a book of his compositions adding graphics as shown here. .

They have given me an insight into the father I never knew and I share some of them on these pages.

Donald J Plefka
a.ka. Grandpa Don

This work by Alden J. Copeland is the property of my Copeland brother and sisters and, as his children, they retain the copyrights on his works. You may link to these pages but may not copy or publish his work in any media without their expressed permission.

Return to "My Father Wrote" main page
The World of Grandpa Don
Home Page

Free JavaScripts provided
by The JavaScript Source