"The American Dark Ages".
I have given that name to the period between 1800 and 1849 because the records of the US Census only gives the name of the head of the household and the number of people, male or female, free or slave, in various age groups. The names of wives and children were not recorded. There were no civil birth records or death records. This dearth of information makes research into the lives of people who lived in this era very difficult, if not impossible. Both Shepard L Packard, on my mother's side, and Eliza S Hunt, on my Father's side were born and led their early lives during these "Dark Ages".
We have a copy of military records which tells us Shepard was born in Easton, MA. The mystery is in his parentage. We do not know their names or anything about them.
He listed his occupation as Foundry worker, most likely employed at the Ames shovel factory located in Easton, Ma. He was 22 years old when he enlisted in the 1st US infantry, 17 Co. in New York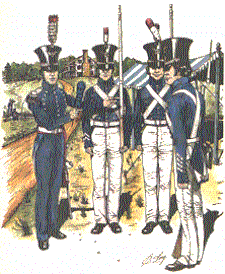 under Captain Bainbridge in 1839. He served at Ft Winnebago in what is now Wisconsin Their mission was to keep the peace with the Indians of the area after the recently negotiated treaty. He was discharged there on the 29th of April in 1845. We also know from these same records that Shepard had blue eyes, brown hair, dark complexion and was 5'-5" tall. I invite you to read "Early Times at Ft Winnebago" The typical dress uniform for the US Infantry of the period is shown at the right.
Shepard Packard (1818 - 1883) married Martha Clay of New Jersey (b 1829) Shepard and Martha were married in Vermillion, Ohio by J. C. Angel, Minister of God on 26 Jun 1847. Shepard was employed as a mold maker for iron castings. They were the parents of eight children; Charles Thomas, Henry Shepard, Martha, Melvin, John W, Emily, Minnie, and Edward.
Henery Shepard Packard, (1851 - 1906) my great grandfather, married Amanda M. Milns (1856 - 1937). They had seven children; Dewit Talamage, James Garfield, Clara Florence, Jennie Duty, Paul Henry, Leroy "Roy" Dwight and Silas.
Clara Florence Packard (1882 - 1957) married Richard William Lossner (1880 - 1944) in Cleveland on the 25th of June, 1903. They were my grandparents. They were the parents of four children; Florence Lucille "Lucie" or "Tootsie", Richard Wilber Henry, Kenneth Edward, and Chester Adelbert.
Florence Lucille Lossner (1904 - 2001) was my mother.
But ...who are Shepard Packard's parents?
Some of the information we do know about Shepard was gleaned from the census records of 1850, 1860, 1870 and beyond as well as his military record.
For the story of Packard genealogy see Packard Family.