The surname Packard is French. It means the descendant of Bacard (combat, strong).(Source: New Dictionary of American Family Names by Elsdon C. Smith. New York: Gramercy Publishing Company, 1988). The name Packard appears in English records as early as the beginning of the fourteenth century. The name was well established in East Anglia long before Samuel's birth.

Suffolk County, England:

In early Norman records is found Ralph, Engeram, Richard, Peter, Geoffrey, and Walter Picard in Normandy from 1180-1196. Then we find a Robert Pichard in England circa 1198; and a John Pikert circa 1274. How and if these early Picards/Pikerts relate to later generations is not known.
My grandmother was a Packard. No, she wasn't a car. Richard G. Packard of Mesa, AZ, said "Almost all of the Packards in America descend from Samuel and Elizabeth Packard who came to America in 1638" Based on this assumption, we believe there is a connection from my grandmother (on my mother's side) Clara Florence Packard (1882 - 1957) in an unbroken line to Samuel Packard (1612-1684) and his wife Elizabeth (1614 - 1694) who arrived in America in 1638 and even further back in England.
The Packard Line
The Packard line in England according to One World Tree on Geneology.com can be traced back to the early 13 century. We assume the following to be reasonably correct.
Name
Robert Packard
Richard Packard
Richard Packard
John Packard
Moses Packard
George Packard
Born
1410
abt 1446
1468
abt 1492
abt 1537
abt 1575
Woodbridge, [parish], Suffolk
Woodbridge, [parish], Suffolk
Earl Stonham, [parish], Suffolk
Earl Stonham, [parish], Suffolk
Earl Stonham, [parish], Suffolk
Colmans Stonhamaspal Whitsungrene, [parish], Suffolk
Died
30 Jan
1472
Unknown
4 May 1531
23 Oct 1553
7 Nov
1604
14 Dec
1623
Woodbridge, [parish], Suffolk
Earl Stonham, [parish], Suffolk
Earl Stonham, [parish], Suffolk
Coddenham, [parish], Suffolk
Stonham, Aspal, Suffolk
George Packard Married Mary Wither (1574 - 1652) and were the parents of Samuel Packard.
George Packard (1579?-1623) was a yeoman farmer. He had a farm called "Colman's" in Whitsungrene (Whitsun Green), England. Colmans is now called "Red House." George Packard married Mary Wyther, daughter of Thomas Wither (d. 1595) and Margaret --- his wife. Mary Wither was baptized in 1574 in Woolpit, and died August 19, 1652.

Stonham Aspal is in the diocese of Norwich in Norfolk County, England.

The will of George Packard was dated December 1, 1623, and he was buried December 14, 1623 in Stonham, Suffolk County, England.

Mary's will was dated August 11, 1649 and was proven on August 19, 1652. She mentions her daughters, Mary, Frances Standley; her sons, John and George; and her grandchildren Mary Standley and Margaret Smyth.

Sources: [Arthur William Darwin, Parish Register Transcripts, 1541-1837, Church of England, Parish Church of Stonham-Aspall. Microfilm of mss. in the Suffolk County Record Office, Ipswich, Suffolk, England. (LDS #991,989, Items 13-14, #991,990, Items 1-3)].
In February of 2007 contact was made with by Richard G. Packard of Mesa, AZ. who provided the following information:
"Almost all of the Packards in America descend from Samuel and Elizabeth Packard who came to America in 1638 on the ship Diligent from Ipswich, England. Attached to this email are some files and pictures you might find interesting. The pictures are of the old Packard homestead in Stonham Aspal, Suffolk, England. This is the house where Samuel and his father George were both born. The original front part of the house was probably built around 1550, but it has been added on to in the rear over the years by subsequent owners of the property."

Photos provided by Richard Packard - Used with permission
Richard Packard has given permission for me to publish these photos There is substantial documentation of the Packard Families of Massachusetts. The book "Mayflower Families - Through Five Generations" lists many of them but does not go beyond the mid 1700's. US census reports do not list individual family members by name until the mid 1800's.
The Document "Early English Packards" lists records of wills and court documents and parish records back to the year 1311. In his document titled "Samuel Packard 1612 - 1684" Richard states that Samuel was the fourth son and as such would not have inherited land. That was rectified by going to the American colonies where land was there for the taking,
The Packard American genealogy:
The following lists the generations starting with the first arrivals is America.
1st Generation -Samuel Packard
Samuel Packard (1612-1684) married Elizabeth (Family unknown) (1614 - 1694) in about 1635 at Stonham, Aspal Parish, Suffolk, England. With their two year old daughter Mary they emigrated to Plymouth Massachusetts Colony in 1638 on the ship Diligent from Ipswich, England, where, according to an article by Karle S. Packard, they were the parents of 13 additional children. 11 were born in Hingham, Mass. and 2 in Weymouth, Mass. before they relocated to Bridgewater, Mass. According to Karl S. Packard ...
"He was an active member of the town, being Collector of Minister's Rates in 1670, Surveyor of Highways in 1672, and Constable again in 1674. He was licensed to keep an 'ordinary' (tavern) in 1671. He died there 7 November 1684, and his will, dated 29 October 1684, was signed by mark, helping to explain why the common mispelling of his name as Packer was not corrected earlier"
Samuel and his sons were soldiers in King Philip's War, a bloody conflict with the native Americans, under Captain Benjamin Church. (see War )
2nd through 6th generation - Unknown.
Based on the fact that several (6+) people who are known descendants of Samuel Packard have been matched to Donald J Plefka in the Ancestry.com DNA project and the fact that Donald's 2nd great grandfather was Sheperd L Packard, we take the liberty to asume that Donald J Plefka is a direct decedent of said Samuel Packard. If our generation calculations are correct Samuel would be Donald's 9th great granfather.
We do not at this time know the parents of Shepard Packard, born in Easton, Ma in 1818. (see below) Therefore the line to Samuel and Elizabeth can not be determined.

See Our Family Mysteries for details of our search for information.
The 7th generation and all subsequent generations are verifiable through the records of the US Census and other sources.
We have a copy of military records which tells us Shepard was born in Easton, MA. He listed his occupation as Foundry worker, most likely employed at the Ames shovel factory located in Easton, Ma. He was 23 years old when he enlisted in the 1st US infantry, 17 Co. in New York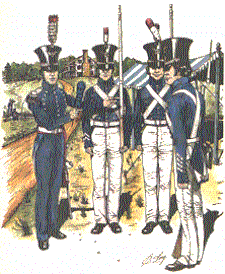 under Captain Bainbridge in 1840. He served at Ft Winnebago in what is now Wisconsin Their mission was to keep the peace with the Indians of the area after the recently negotiated treaty. He was discharged there on the 29th of April in 1845. We also know from these same records that Shepard had blue eyes, brown hair, dark complexion and was 5'-5" tall. I invite you to read "Early Times at Ft Winnebago" The typical dress uniform for the US Infantry of the period is shown at the right.
Shepard Packard (b Abt1818) married Martha Clay of New Jersey (b 1829) Shepard and Martha were married in Vermillion, Ohio by J. C. Angel, Minister of God on 26 Jun 1847. Shepard was employed as a mold maker for iron castings. They were the parents of eight children; Charles Thomas, Henry Shepard, Martha, Melvin, John W, Emily, Minnie, and Edward.
8th Generation - Henry Shepard Packard
Henry Shepard Packard (1851 - 1906) married Amanda M. Milns (1856 - 1937) Amanda was born in London, England and came to Cleveland with her parents. They had seven children; Dewit Talamage, James Garfield, Clara Florence, Jennie Duty, Paul Henry, Leroy "Roy" Dwight and Silas. Henry and his brother John followed in their father's footsteps as mold makers. Amanda's brother George Milns was president and General Manager of Cleveland Facing Mills Co in 1895 - 96 a metal castings plant located on the "flats" of the Cuyahoga River valley according to the city directory. In the 1897 - 98 directory lists the George P. Millns Foundry Facing Co.
The above was published in "The Foundry", Detroit, MI, 1896.
Henry Shepard
Packard
Clara Florence (Packard) Lossner
Photos provided by Peggy Cecora - Used with permission
This generation included a celebrity (of sorts). Henry Shepard's sister Minnie was "the actress of the family". This, in the 1880's, was not received as an acceptable profession for a proper young woman in some families. Minnie was part of the cast of the following shows of some note:
| | |
| --- | --- |
| Performer: Minnie Packard [Daisy Deane] | Feb 17, 1902 - May 31, 1902 |
| Performer: Minnie Packard [Chorus] | May 12, 1894 - Nov 1894 |
The photo at the left, as a young girl, may have had an influence on her choice of careers and the center photo is apparently in costume. She was the subject of a "Newsboy Cabinet" card. Unfortunately we do not have a copy. Newsboy cabinets were given away as 'premiums', in tobacco or drug stores, for purchases of plug tobacco of the National Tobacco Works of New York. You can learn more of them and see some samples of the cards on the web site of Mike Reeve at http://www.newsboys.co.uk/ . These cards are still traded, like baseball cards, and can be worth considerable sums of money at this time. Minnie Packard also went by the name of Maud and was known in the family as "Aunt Tood". She was believed to have married Ernest Sherman and died sometime after 1941.
9th Generation - Clara Florence Packard
Clara Florence Packard (1882 - 1957) married Richard William Lossner (1880 - 1944) in Cleveland on the 25th of June, 1903. Richard worked in retail shoe sales and became the store manager. They were the parents of four children; Florence Lucille "Lucie" or "Tootsie", Richard Wilber Henry, Kenneth Edward, and Chester Adelbert.
10th Generation - Florence Lucille Lossner
Florence Lucille Lossner (1904 - 2001) married Daniel Cecora (1898 - 1973) in 1923. Living in Cleveland, they were the parents of James and Kenneth Cecora. "Lucie" & Dan divorced in 1930. Lucie was seeing Alden J Copeland and became pregnant. She went to live with relatives (probably the Milns family) in Chicago and gave birth to Harry Ronald Cecora in May of 1931. He was adopted and given the name Donald James Plefka, aka Grandpa Don. Thus begins the 11th and subsequent generations.
**************************************
The information for the 7th through 10 generation was provided by Peggy Cecora wife of Jim Cecora who's parents were Florence Lucille (Lossner) and Dan Cecora. Additional information was gleaned from census records and other sources.
The following is from Dale H. Cook regarding the Shepard Packard of the 8th generation.
This must be the Shepard Packard found in the 1880 census in Cleveland. I do not know his origin, but will share some thought on the subject.

As you may have noted, the LDS extraction program shows no birth record for him.

"Shepard" is an uncommon surname in the Packard family. The earliest example which I have found is the one born about 1761, almost certainly in Bridgewater, son of Josiah and Sarah (Ames) Packard, who married Rachel Oakes. Shepard and Rachel lived in the North Parish of Bridgewater (now Brockton) I do not see any likely path from this Shepard to yours.

Shepard's brothers Abiel and Edward, however, removed to Hebron, MA, which since 1820 has been Hebron, ME. The IGI shows a member submitted birth of a son Shepard to Abiel Packard in 1795 in Hebron.

I think it possible that your Shepard was a grandson of Abiel or Edward, and since he was born before 1820, when Maine became a state, if he were born in Hebron he would have been born in Massachusetts.

Dale H. Cook, Member, NEHGS and MA Society of Mayflower Descendants; Plymouth Co. MA Coordinator for the USGenWeb Project
Mr. Cook's assumptions however are very much in doubt with the discovery of our Shepard Packard's military record stating that he was born in Easton, Ma. The mystery is still unresolved.
A Multi-generation family photo.
(Photo from Peggy Cecora - used with permission)
Photo at at the Packard home on Broadway in Cleveland, OH late in 1887

Detail at left:
"Aunt Em"
- Emma Packard Shirley,
Jenny Duty Packard,
Harry Milns,
Clara Packard

(Click above)

The Ladies
and Children

Enhanced
below

(Click above)

Detail at right

Aunt Martha Packard
her Nephew, Jim Packard

Detail at right

Amanda (Millns) Packard
her son, Paul Packard

Detail at left:
Martha (Clay) Packard
(1829 - ????)
Shown here about age 58
The generations represented in the above photo are:
1st - Martha (Clay) Packard (1829 - ????) wife of Shepard Packard
2nd - Martha Packard (1852 - ????) Daughter of Shepard & Martha
Aunt "Em" Emma Packard Shirley
Amanda (Milns) Packard (1857 1937 Wife of Henry Shepard Packard
3rd - Jenny Duty Packard (1884 - 1963) Daughter of Henry & Amanda Packard
Harry Milns (1879 - 1950) Probably the son of Amanda's brother Lewis. Lewis obtained a marriage license but it was never returned to the county with a official marriage date. Lewis died in 1898. There is another listing for possibly another brother in the Cleveland directory. He lived at the same address as the Milns family. Peggy Cecoea's research on him is not complete The best thing we can do is obtain a copy of Harry's death record and hope that his parental information is on it.
Clara Packard (1882 - 1957) Daughter of Henry & Amanda Packard
Jim Packard (1880 - 1953) Son of Henry & Amanda Packard
Paul Packard (1887 - 1967) Son of Henry & Amanda Packard
It is quite possible that the Harry Millns pictured here is the relative with whom my mother stayed in Chicago while she was pregnant with me. He may also have been my manes sake ie Harry Ronald Cecora. (We have no idea where "Ronald" came from but I like to think I benefited from the 1920's popularity of actor Ronald Coleman.)
Amanda's sister Emma was living in the Packard home as a boarder at the time of the 1880 census and probably until her marriage a year after this photo was taken.
There was also Henry Packard's sister Emily. (Emma Packard Shirley) who was the daughter of Shepard & Martha. Amanda's sister married Fred Schoppe. Peggy has not completed this research at this time.
Clara Packard would later marry Richard William Lossner and is my grandmother. Amanda (Milns) Packard is my great-grandmother and Martha (Clay) Packard my g-g grandmother.
The names of the people were written on the back possibly by Amanda (Millns) Packard.
At various times this family name has been recorded as Milns, Millns and Mills. This has caused confusion in tracing family members and identifying relationships.
The following web pages either contributed information for this page or belong to people who did or are noteworthy in connection to the Packard line of families.
The Packard Family ... Margaret Odrowaz-Sypniewska, B.F.A.
Early Bridgewater Families ... Dale H. Cook.
Gregory Packard ... Fine Art ... Creativity
Packard Poem ... Poem by Mrs. Nethiah Hayward Thayer
Written and researched by Margaret Odrowaz Sypniewski, B.F.A.

We are grateful for the information provided as well as
proofreading and corrections by Peggy Cecora.
© Grandpa Don Plefka
aka Harry Ronald Cecora
Revised 09/06/2007
Please respect the right of ownership of this page.
Please feel free to link to it from your web site