The Copeland Family Line
Alden ( Al ) John Copeland was my natural father. This page describes the family which originate in England in the early 1600's. It also includes the line to John & Pricilla Alden of Mayflower fame. (See 2nd Generation: William Copeland)
This is their story, as I know it.

Journey on this page to ...
Family Origins
A Historical Review
The Copeland / Plefka Family Line
Your return trip to ...
Free JavaScripts provided
by The JavaScript Source
---
The name Copeland is Northern English and Scottish: habitational name from a place called Copeland, of which there is an example in Cumbria, or from Coupland in Northumberland, both named with Old Norse kaupa-land 'bought land', a feature worthy of note during the early Middle Ages, when land was rarely sold, but rather held by feudal tenure and handed down from one generation to the next. The Copeland family is reported to have been named after the Prince of Scotland, Northumbria, near where the Deanery of Copeland is found Cumberland, Cumbria, North Umberland area 600 sq miles. They were the Chieftain Lords before the Normans began conquering in 1066. and then afterwards that area rose up against him, and he nearly annihilated the area.
This information is taken from pages 2-3 of the book Some Copeland and Little Families written by A. Lucille Harney and Fairline Bigley. Library of Congress Catalog Card Number 98-74171.
"The Copeland history goes back in the medieval ages. John Copeland was spoken of in 1248. He was one of twelve knights chosen to meet the Scotch Commissioners to settle certain border disputes at that time. Later, Sir David Copeland is mentioned. Then in 1346, the hero of the battle of Neville's Cross, Sir John Copeland is exploited as having been not only the hero of this famous battle, but as the true founder of the Copeland family.
Copeland castle stands on the North brink of the Glen and seems to have been a very famous old one.
Copeland Castle in 2007
From all historical researches, it has been deduced that the name Copeland was derived from this castle. At the time Baliol ceded Galloway to the English King, a very great number of Northumbrians must have moved there to settle the new territory. Castles Douglas and Dumfries were both in ancient Galloway.
There were Copelands in Dumfries in 1500. It is very probable that the Copelands, with others, settled there at a very early period. The Copelands who live there now claim Sir John as their ancestor and assume him to be descended from the family mentioned as of 1248. The capture of King David of Scotland introduces Sir John as our standard bearer, the story being authentic according to historical data. At the battle of Neville's Cross, Oct. 17, 1346 A.D., King David II of Scotland was disarmed and taken prisoner by Sir John Copeland, a gentleman of Northumberland, who was Governor of Roxbury Castle, although not without having knocked out two of Copeland's teeth with his gauntlet in the struggle to free himself. Copeland conveyed the wounded monarch off the field and refusing to deliver the prisoner up to the Queen, who had remained at Newcastle during the battle, she sent word to the King, protesting the action of Copeland in refusing her request. The King, Edward III of England, during the battle of Neville's Cross, was besieging Calais, France. John of Vienna was Governor of Calais and commander of the French, who were at that time allies of the Scotch. After a siege of eleven months, John of Vienna was forced to capitulate to King Edward III. When the king received the queen's message, he straightway summoned Copeland, who upon arrival before the king, excused himself so handsomely, saying that he had sworn allegiance to the king only, he owed his first fidelity to his sovereign in presenting the prisoner to him alone, that the king acknowledging his loyalty, bestowed upon him a reward of five hundred pounds a year in lands near Woolen, which bear the name Copeland. The king also made him a Knight Banneret. He ordered Copeland to deliver the prisoner to the queen, who had the Royal Captor placed in the Tower. King David II, who Sir John Copeland captured at the battle of Neville's Cross was the only son and successor of the celebrated Robert Bruce of Scotland. (This story has been abridged, but it can be obtained through libraries where it can be read in its entirety.)"
The article contained a few typo's which I corrected. The most glaring was the that of the battle of Neville's Cross, Oct. 17, 1346. The article had the date as 1846 which was blatantly wrong. Of course I would love to be able to trace my father's ancestors in an unbroken line to the Copelands of the 14th century but it may not be possible. The following is from the life of King David of Scotland ...
David was captured and taken prisoner by Sir John Copeland, who after transporting him to Calais, delivered him to King Edward III and imprisoned him in the Tower of London. (which earned Sir John the title of Baron, Warden of Benwick, Sheriff of Northumberland and Keeper of Boxboro Castle.
We will count him as a "possible" ancestor, or maybe even a "probable" ancestor. Along the way we could possibly find the link between the Northern US Copeland clan and the Southern. The "Northern" Copelands stem from Lawrence Copeland who settled in Massachusetts in 1635 and the Southern from Jon Copeland who arrived at the Isle Of Wight, Virginia about the same time. The two were not closely related and apparently came from different parts of the British Isles. Jon did visit Lawrence in MA but as a Quaker, he was driven out with an ear cut off. Quakers were not welcome in Massachusetts where the Puritans and Separatists came for religious freedom ... as long as it was their own brand of religion.
There have been several instances of Copeland immigrations from both England and Ireland to America which contributed to a number of family lines and there is much confusion as to their relationships.
Lawrence Copeland was born about 1560 at Dolphin Leigh, Dolphinholme, Yorkshire, England. His father is believed to be Robert Copeland (15??-1596). He was reportedly married to Ruth Becton He died in 1596 at Dolphin Leigh, Dolphinholme, Yorkshire, England.


Lawrence Copeland was a solid Roundhead, and for his religious faith he appears to have died. His estates were sequestered by the Crown for recusancy (refused to attend the Anglican Church). The eldest son Robert, tried to obtain these estates; but, the result.... Claim allowed with arrears from the fathers death on fuller proof of the death and on the sons taking the Oath of Adjuration. (Everyone was to be "adjudged a Papist" who refused this oath, and the consequent penalties began with the confiscation of two thirds of the recusant's goods, and went on to deprive him of almost every civic right.) Robert does not appear to have done this and it is believed he and his brother, Lawrence, sailed to America. The other two sons, John and Thomas, are believed to have joined their relatives in Staffordshire. It is generally believed that Lawrence is the one who settled in Braintree, Mass. in 1630; and that John came to Virginia in 1635.' Note: Lawrence is the head of a large family of Copelands in New England, moving westward, but there is no evidence that [Robert] had any children. Thomas went to Barbados and some of his sisters went to Virginia as spelled out in his will.

ROUNDHEADS the name given to the supporters of the parliamentary cause during the English civil war. Many Puritans, scorning gentlemen's fashions of the 17th century, wore their hair closely cropped. In 1641 bewigged or long-haired royalists insulted their Puritan opponents in Parliament by calling them Roundheads. The term was later applied to all supporters of the parliamentary rebellion, even though the leader of the Roundheads, Oliver Cromwell, wore his hair long.
However, There is doubt that Lawrence (1599-1699), and John who settled in Virginia were brothers. DNA testing shows that there is no link between the John Copeland who arrived in 1635 to Isle of Wight County, Virginia (DNA haplotype R1a) and the Lawrence Copeland family of the 1600s in Norfolk County, Massachusetts (DNA haplotype R1b). Parish records of Yorkshire, England fail to reveal the children of Roundhead Lawrence Copeland. It is possible that he is the father of either Lawrence or John but we have no solid evidence that either were his sons.
John Copeland, Sr. (1748-1826) was a later arrival and he came from Ireland. In the 18th century, this branch of the Copelands was living in Co. Down in the Ulster province of Ireland. It is not known when this family moved to Ireland: the name is English in origin. It is very possible that the Copelands moved to Ulster as part of the English plantation movement, to settle Scottish and English families in certain parts of Ireland. George Prangle Copeland was born in Ireland. His wife's name is not known. In the late 1740s or early 1750s, he and his family and some other families, including the Blakeleys, immigrated to Pennsylvania. He may have moved to South Carolina for a while, but in the 1790 federal census, he was living in Pennsylvania. John Copeland, Sr. (1748-1826) was one of George Prangle Copeland's sons. He was born in Ireland on February 12, 1747/48. At some point, he married Margaret Blakeley, the daughter of John Blakeley, Sr. and Rachel Orr, both who had emigrated from Ireland. Around 1755, the families left Pennsylvania and moved to Laurens Co., SC, near the town of Clinton. They belonged to Duncan's Creek Presbyterian Church.
My Copeland Family
A Historical review
"Among the families of old Bridgewater that have shown energy, force of character, business acumen, and persistent industry, and one that has impressed itself on the present era by the perpetuated labors of several generations, must be particularly mentioned the Copeland family".
The above is from the History of Plymouth County
by D. Hamilton Hurd,
published in 1884
by J.W. Lewis and Co of Philadelphia.
My Conclusions
Based on the information that the descendants of Lawrence Copeland Sr. do not have matching DNA to the descendants of Jon Copeland I can not but assume that these Copeland lines belong to completely different family lines and so the Northern Copeland's and southern Copeland's are not directly related. I have traced, but not proven, the lineage of our Lawrence Copeland according to
The Copeland Line Back to Antiquity. This lineage is completely consistent with my DNA which is roughly 1/3 British, 1/3 Western European, and 1/3 Scandinavian with a less than 1% West Asia. This Copeland line has its home in England (not Scotland), and before that, Normandy and prior to that, via Viking stock, Scandinavia. Amazingly the West Asian component seems to be fulfilled with Frithwald Bor Or Fredalat, The Asguard who was reportedly born in Asia in 190AD, he being a 48th great grandfather of Lawerence.
This, of course is conjecture with what follows being family history.
The Copeland / Plefka Family Line
1st Generation: Lawrence Copeland 1589 - 1699
Lawrence Copeland was born in England reportedly in 1589. He sailed to Plymouth Colony in America in about 1635 settling in the town of Braintree where on October 10, 1651 he married Lydia Townsend. Lydia's parents* had arrived in America just prior to her birth in 1630. They had two children while living in England and four in Massachusetts.
These were the days of Galileo, Rembrandt, Shakespeare, Isaac Newton and Pilgrims.
Lawrence and Lydia were the parents of five boys and three girls. Lydia died on January 8, 1688 and Lawrence on December 30, 1699 at "an advanced age". If his birth date is correct he would have been 110 years old. Some sources place his birth in 1599, making him 100 at the time of his death.
From" Records of the Town of Braintree, Massachusetts, 1640 to 1793" p. 695
Laurence Copeland a very aged man born in the Reign of our Gracious
Soverreigne Queen Elizabeth of Blessed memory December ye 30th.1699
The first six generations of the "American" Copland family in this line were farmers. The following from the records of the colony had been thought as referring to Lawrence's brother. This assumption however is apparently incorrect.
February 1657-8 : "John Copeland, one of the sect comonly called Quakers, being summoned, appeered, and being examined and found guilty of speaking falsly concerning Mr John Alden, as that his head and knees trembled att such times as the said Copeland and Christopher Holder were before the said Mr Alden and Leiftenant Southworth, for which the said Copeland is centanced by the Court to bee whipt att such time as hee shalbee found in the goument, being required to depart the jurisdiction within eight and forty houres from this psent."
Plymouth Colony Records, Vol. 3, p. 127.
The two men either did not leave or returned, and on 8 February the two men were publicly whipped. While Plymouth Colony's treatment of Quakers was milder than Massachusetts Bay Colony, which hanged four, the Quakers were not welcomed in either place and were urged to move on. Town government and the church members used the same meeting hall and were closely tied together. Only one church was tolerated in each town. In 1658 James Cudworth of Scituate, who had lost his position as head of the Scituate military company when he was accused of aiding Quakers, wrote to England to complain about the treatment Quakers were receiving. In his letter he wrote, "Mr. Alden hath deceived the Expectations of many, and indeed lost the affections of such, as I judge were his Cordial Christian Friends; who is very active in such Ways, as I pray God may not be charged him, to be Oppressions of a High Nature." Apparently, Cudworth and others had expected Alden to be more sympathetic to the Quaker's plight (Plymouth County Records, vol. 3:130, 115, 162; Plymouth Colony by Stratton, 91-92).
Also see Religion in 1500 - 1600
* (Generation -1) Lydia' parents Thomas Townsend (1594 - 1677) and Mary Mansfield (1608 - 1635)
2nd Generation: William Copeland 1656 - 1716
A son of Lawrence and Lydia, William, born September 15, 1656, married Mary Bass, the granddaughter of John Alden and Pricilla Mullins of Pilgrim fame. Mary had two daughters and a son in her first marriage to Christopher Webb and eight sons and a daughter with William Copeland.* William was described as a Yeoman, a class intermediate between the gentry and the laborers; a yeoman was usually a landholder but could also be a retainer, guard, attendant, or subordinate official. Most yeomen of this time were probably occupied in cultivating the land. William died on October 30, 1716 and Mary on April 10, 1726.
* Source - Mayflower Families Through Five Generations
During these time there were skirmishes with the Indians who did not understand the concept of ownership of land. Settlers bought land from the Indians who thought they were selling the right to share it. These were also the days of the Salem witch trials.
"The Pilgrims sought to establish at Plymouth Colony a Christian fellowship like that which gathered around Jesus Himself. Congregationalists include the Pilgrims of Plymouth, whose ecclesiastical tradition is in the Unitarian church, and the Puritans of the Massachusetts Bay Colony, which were organized in union by The Cambridge Platform in 1648 and are now the contemporary Congregational church."
( Congregational church -Wikipedi Encyclopedia )
A note about families;
William Copeland (1656 - 1717) married Mary Bass (1669 - 1726). They had nine children between 1694 and 1713. But Mary had been previously married to Christopher Webb and they parented three children between 1686 and 1690. But that's not all. After William's death, Mary married Ebenezer Spear who had fathered nine children between 1680 and 1698. Can you ladies imaging having 21 children calling you "mom"? And did they all live on the same farm? Probably not since her oldest children and Ebenezer's oldest were probably married at the time of their marriage but can you imagine what the holiday gatherings must have been like?
About Ephraim Copeland, William's brother:
"Upon the 9th. day of Agust ther went out a fleet Souldiers to Canadee in the year 1690, and the small pox was abord and they died, sixe of it; four thrown overbord at Cap an, Corporall John Parmtr, Isaak Thayr, Ephraim Copeland and Ebenezer Owin, Thes and Samuel Bas, and John Cheny was thrown overbord at Nantaskett. Serjant Thomas Faxon died of the small pox and was buried at Waymoth.
From "Records of the Town of Braintree, Massachusetts 1640 to 1793" p. 658
(During our vacation in 1983 Anne and I, along with Marist Brother, Frank Kelly

visited the beautiful town of Rockport on Cape Ann ("Cop an" above) with its quaint art shops, restaurants and beautiful sea shore. Little did we know of the Copeland connection.) Photo from 1983 vacation.
.
3rd Generation: David Copeland 1705 - 1750
William and Mary's son, David, was born on April 15, 1705. On December 1, 1725, at Milton, Ma and was baptized on June 4th of that year presumably in the Congregational church. He married Elizabeth Bent, born on Jan 13, 1705. See Pedigree Chart
They were the parents of five girls and four boys. They were members of the Congregational Church at Milton and all the children were baptized there where the dates of the baptisms were recorded. *
During this period, the battles with the Indians continued and English and French vied for control of territories of North America. Both sides enlisted the aid of Indians who often switched sides in the conflicts. William Kidd, English-American buccaneer, was hanged. The first steam engine was built and Handel was composing music.
David died on his birthday in 1750 and his wife in July of 1774
* Source - Mayflower Families Through Five Generations
4th Generation: David Copeland 1738 - 1779
David and Elizabeth's son David, born in Milton, MA on May 14, 1738 and Elizabeth Clapp, born July 1, 1741 were married on November 29, 1759. They were the parents of five boys and three girls. David is known to have served in the Continental Army in the Revolutionary War. The death date of Elizabeth is unknown but is assumed to be prior to September 1, 1778 when David married Martha Putnam, born July 15, 1755. They were the parents of two additional boys and a girl. This branch of the Copeland family relocated to Vermont. The dates of death for David and Martha are not known.
The French and Indian Wars began between England and France. Colonists were becoming disenchanted with the heavy handed rule of the British The Treaty of Paris ended the French-Indian War. France ceded Canada to England and gave up all her territories in the New World except New Orleans and a few scattered islands. British troops taunted by a crowd of colonists fired on an unruly mob in Boston and killed five citizens in what came to be known as the Boston Massacre. On Feb 9, 1775 the English Parliament declared the Mass. colony was in rebellion. On Jul 4, 1776 the Continental Congress approved adoption of the Declaration of Independence. Shoelaces were invented in England.
As noted above, families tended to be large and the family farm no longer supports succeeding generations. Either male descendants find other occupations or find new land on which to establish new farms. And so, families disperse, sometimes to distant areas following new opportunities.
For information regarding Elizabeth Clapp and her ancestry see The Pomeroy Family Line.
5th Generation: Joseph Copeland 1765 - 1815
A son of David and Elizabeth was Joseph Copeland, born in Vermont April 27, 1765. Joseph married Sally Downer, born October 31, 1777, and they were the parents of five girls and three boys. Joseph died 25 Nov 1815 and Sally, 05 Nov 1854, both in Vermont.
Though we know little of this ancestor, he lived at a momentous time in history. He saw the birth of this nation and the beginnings of a new form of government. On Nov 30, 1782 the United States and Britain signed preliminary peace articles in Paris, recognizing American independence and ending the Revolutionary War. Mozart during this period wrote six string quartets dedicated to Haydn. After 1783 German officially replaced Latin as the language of instruction in Austria. Inventor John Fitch demonstrated his steamboat, Joseph Guillotine proposed a new, more humane method of execution. A toilet that flushed itself at regular intervals was patented. Cleveland was founded by Gen. Moses Cleaveland.
Sally Downer was born October 31, 1777 in Vermont. Her mother died when she was an infant and she was taken in by the family of Tilly Parkuurst. Her Father and brothers were captured during and Indian raid in 1780 and so she remained with the Parkhurst family. See Indian Raid for that interesting story. Sally was raised by theTilly Parkhurst Family before going on to marry Joseph Copeland on 10 Sep 1792. They had 11 children and the 3rd child, a boy, was named Alden Parcus Copeland. The name Alden was obviously chosen to honor his ancestor John Alden (5 generations prior). Apparently, the second given name was to honor the family that raised his mother but apparently due to lack of spelling skills Parkhurst became Parcus. We assume that's how they heard and pronounced it. But, they named their 8th child, Parkhurst Tilly Copeland to more properly honor Sally's step father. Apparently by that time they had become aware of their original mistake.
Alden Parcus went on to marry Rachel Flemming after relocating to Pennsylvania and they carried on the (mistaken) tradition, or to honor his own name, by naming their 3rd child Parcus Alden Copeland.
6th Generation: Alden Parcus Copeland 1801 - 1852
On August 23, 1801 their son Alden Parcus Copeland was born in Vermont or Pennsylvania. He married Rachel Fleming, born April 30, 1815. They parented three boys and two girls.
Rachel was the daughter of Daniel Fleming (1779-1846) and Nancy Harding (1786-1855). We know nothing of Nancy's parents. Daniel was born in Fayett, PA. His father was John H Fleming (1710-1790) who was born in Britain. Daniel's mother was Sarah L Reed (1744-1812) and had been born in Ireland.
The family was farming in either Green or Venango County, Pa. Farming was difficult and the area farms were not very productive due to poor soil conditions. We know little of their lives but as a teen Alden lived through the war of 1812 and then witnessed rapid development in the nation and westward expansion. They witnessed the early development of steam power and many other innovations.
Alden P died Feb 5, 1852 and Rachel on December 26, 1884. There is a fascinating story regarding Alden's brother and the oil boom of the 1865. (see Parkhurst Tilly Copeland farm of Pithole )
What is in a name ... And strange things that happen to them ...
7th Generation: James Harvey Copeland 1835 - 1928
One of their sons was James Harvey Copeland, born in Pa. on March 14, 1835. In 1860 he was living with his mother and her second husband James Fogle in Harmony Township, Venango County, PA and working as a laborer. Sometime during this time after he planned to become a teacher, a photographer came to town and he decided to follow the art of taking "likenesses". Sometime later, probably about 1861, he and a friend traveled down the Allegheny and Ohio rivers to Madrid, Missouri. They traveled 1,100 miles taking pictures in the various towns.
J. H. married Lyde Roher and the couple gave birth to a daughter in 1862. In 1863 they had moved to Meadville, PA. In a letter* Their daughter was described as being "as thick as she is long, but is real pretty"
James was four years old when photography was first developed and as he grew up it attracted his interest. As an adult he would be one of the pioneers of photography when he opened a studio in Meadville. According to a February 1864 letter* of Hannah Rohrer to Coston Monks: "Lyde has all she can do these times and more, too. She gets up and gets breakfast, washes the dishes, and goes to the Gallery, prints, puts plates in the bath, picks up the pictures etc., works until night, and then has to come home, get supper, etc. They took $71 worth of pictures last week, so you can judge how busy they are."
* see The Monks-Rohrer Letters in Credits
When oil was discovered on the land near his uncle's farm the town of Pithole sprang up almost overnight. (see Pithole - Oil's Vanished Boomtown ) J. H. Copeland opened the "Sunbeam Gallery" at 21 First Street Pithole, Pa. in August, 1865 changing the name of his firm to Copeland and Fleming in September,
1866. Possibly the "Fleming" was William Fleming , who was Rachel (Fleming) Copeland's brother. Copeland advertised "photographic views including Pithole City, Prather City, Balltown, and most of the prominent wells, constantly on hand." In addition to the studio, James also was the proprietor of a boarding house.
The photo at the left is J.H., his daughter Nancy Rachel (Nannie) and either his first wife Lyde or his second wife Emma.
In the summer of 1867 they relocated from Pithole to Pleasantville, PA, which sounds like an auspicious move, where James continued in the field of photography with a studio on Main Street. Lyde died prior to 1870 and there was a marriage to Emma Botsford, born in 1838. Emma died about 1873 without any children. The name Eliza Jane Copeland has been found on a deed for some property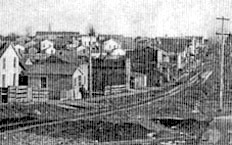 purchased in August of 1865. She is identified as J. H. Copeland's wife but no record of a marriage is known to exist. She is a mystery!
In the photo at the right James Harvey Copeland can be seen in front of the studio on Main Street in Pleasantville, PA. 1870.
On November 15, 1874 James H. married Alice Harriet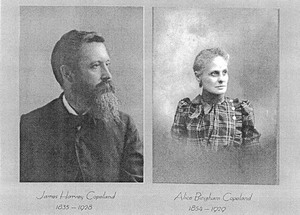 Bingham, born Feb 4, 1854. Their children were Harvey Louis, Isabell, Alden Bingham and Earnest Smith Copeland. James and Alice are pictured at the left. The family had moved to the Cleveland area where all of their children were born. He had a studio at 225 Superior Street in
Cleveland starting in 1870 and from 1889 to 1909 he had a studio in Linwood Park. There were several other studio locations in Cleveland, sometimes in partnership with other photographers. Click on the thumbnail at right for one of the ads. (Marilyn Copeland discovered this ad in the archives of Oberlin College in 2009). James recalled in a 1927 interview (see below) that he photographed presidents James Garfield and Benjamin Harrison.
Alice was named president of the The Good Samaritan Relief Society of the Spiritualists Church according to a February 7, 1891 article in the Cleveland Plain Dealer.. Their daughter Belle (Isabel) was mentioned on the program of the celebration of the 44th anniversary of the founding of the Modern Spiritualist held at the Royal League Hall in the Case Building in Cleveland on March 28,1892. She was about 15 at the time. This was also the event at which Jennie Thayer did a recitation of "Home of the Soul". She was 13 at the time and would eventually marry Belle's brother, Harvey.
J. H. Copeland retired from Photography at the age of 76 in 1911. James Harvey and Alice completed their lives in Amherst, Ohio. At the age of 92 he was interviewed by the Cleveland Plain Dealer Newspaper. In that interview he noted that he passed most of his birthday working in his half-acre garden. His garden was his hobby but also practical. "Each year I raise onions to sell" he reported. See "News Article"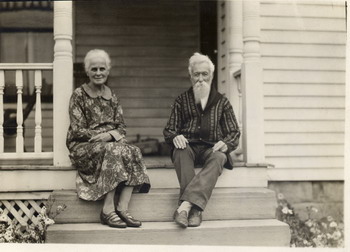 He died on March 14, 1928 and Alice in February of 1929, but we will read more of them later.
8th Generation: Harvey Louis Copeland 1875 - 1954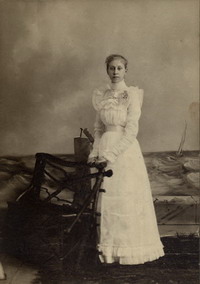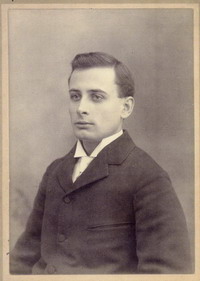 One of their sons, Harvey Louis Copeland, was born September 6, 1875. Harvey Louis served in the Spanish-American War in 1898. We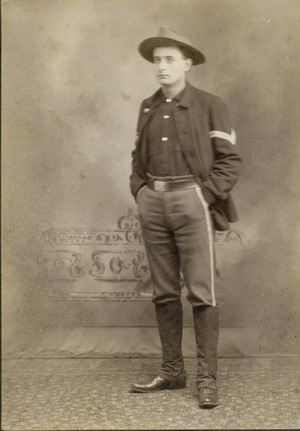 do not know the dates of service but the war was short in duration lasting less than a year. He married Jennie Thayer who was born on August 11 1878. "Lou" is pictured at the left and Jennie at the right. On May 2, 1900 Jennie gave birth to Alden James Copeland and 11 days later on May 13, she died.
Harvey returned to live with his parents along with his son. He was employed as a pressman in the printing business. We can assume that his father took the portraits shown here.
Harvey Louis served in the Spanish-American War in 1898. We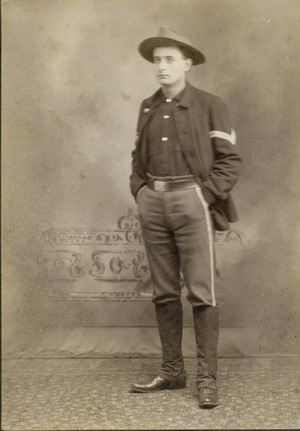 do not know the dates of service but the war was short in duration lasting less than a year.
On January 21, 1904 Harvey Louis married Kathryn (Catherine) Ellen Stuart, born December 7, 1882. They were the parents of Mary Alice and Harvey Stuart Copeland.
This generation saw the 'taming of the West and the birth of many modern conveniences. These were made possible by the utilization of electricity. Railroads spanned the nation and communications grew with the utilization of telegraph and telephone. The automobile was also invented. At the "Turn of the Century" the US was industrialized and had become a world power. It was also seen as the "Land of Opportunity" and the late 1800's saw a huge influx of immigrants aided by the development of ocean going steam ships. This generation saw the end of the Victorian Era.
Our 8th generation lived well beyond this period, experiencing amazing development and even more amazing miracles of technology. Kathryn died on October 12, 1954 and Harvey Louis October 25, 1954.
9th Generation: Alden James Copeland 1900 - 1967
Alden James was raised by his grandparents James Harvey and Alice Copeland after his father's marriage to Kathryn. I wonder about Al. What was his childhood like, loosing his mother as an infant then being raised by his grandparents while his father raised a half brother and half sister in a different household.
| | | |
| --- | --- | --- |
| | | His grandfather, obviously proud of little Al, made him the subject of several photo sessions in his studio. |
| The photo opportunities continued as Al grew older. | | |
Then came the World War Al served in the Army in Troop B 17 Cavalry from 13 July 1918 to his Honorable discharge 11 March 1919. The unit was stationed in Arizona during that time. He immediately re-enlisted and in April they embarked to their new assignment in Hawaii, quartered at Schofield Barracks. In September of 1921 the unit returned to Monterey, California and the 17th was inactivated with the troops transferred to the 11th Calvary. He was Honorably discharged on April 13, 1922 and returned home to Amherst, Ohio. On December 30, 1922 Al (Alden) married Edith Eloholz.
17TH CAVALRY REGIMENT Circa 1916 - 1920
(Marilyn Copeland had a plaque made using her father's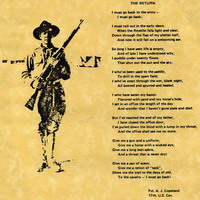 photo and displaying a poem which he wrote. The poem tells much of the man. To read the poem, click on the photo at the right.) While in the service, Al wrote poetry ranging from romantic to whimsical as well as stories and essays on various subjects. (In December of 2007 Marilyn compiled many of his writings into a book which was gifted to his other children including to me.)
Returning home he worked in an office (see poem) and then for the Cleveland City Railroad with a survey crew where his uncle was a civil engineer. He lived in the Amherst, Ohio area. During that period his father and Kathryn along with their children lived in Cleveland. On October 18, 1925 Edith gave birth to a baby girl (unnamed) who did not survive the day. Al and Edith divorced.
Al kept company with Lucille Cecora. She was divorced from her husband Dan Cecora after having two boys, Jim and Ken. Her maiden name was Florence Lucille Lossner but she didn't usually use her first name. When she became pregnant she went to live with relatives in Chicago. The child was born there on May 6, 1931, named Harry Ronald Cecora (me) and released for adoption. Lucille returned to Cleveland. Al and Lucille were no longer seeing each other. ( see The Story of Lucie Lossner )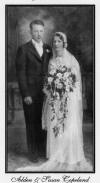 In 1933 Al married Susannah Polinchik, born October 12, 1904. (Click on the thumbnail at the left for a full size wedding photo). Sue was Catholic and Al joined the church apparently before their marriage. He enlisted in the National Guard on March 3, 1934 and served the 112th Engineers as a truck driver until his discharge on January 23, 1935. Their family included Rita May, Jean Marie, Irene, John Alden and
Marilyn. The children were never told of the relationship with Lucy or the resulting child. In retrospect, there is reason to believe that Al knew of his adopted child based on things which were said in unguarded moments. Al worked as a truck driver until illness forced him to stay home. Sue supported the family for about 11 years until Al's death on October 24, 1967. Sue survived until January 8, 1999.
Al Copeland started life at the "Turn of the Century", graduated high school in time for World War One, returned to civilian life to live the "Roaring Twenties" only to dive into the "Great Depression". It was a time of great change when the horse was replaced by the automobile and cities reached for the sky as they spread into the farm lands. The Victorian era was over and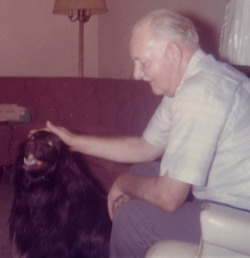 there were "flappers", popular music thrived ... and all that Jazz. There was prohibition and the rise of gangsterism. Radio and airplanes were developed and the world became smaller. We had the rise and fall of the "Big Bands" and our musical tastes evolved radically. The Second World War followed along with the birth of radar, the atom bomb and television. Paved roads replaced dirt and gravel and interstate highways were developed. The space age had begun and humans reached for ... and walked on the moon. It was probably the generation of greatest technological as well as social change in history up to that time.
At the right Al is pictured with Cinder, the family dog in the early 1960's. He experienced much and saw more. Through him the Copeland line continues. Four generations of his descendants exist at this writing. (2009)
10th Generation: Donald J Plefka (1931- ) & the 11th, 12th & 13th generations.
A son was born to Alden J Copeland and Floence Lucile (Lossner) Cecora in May of 1931 in Chicago, Illinois. He was named Harry Ronald Cecora and remained in the hospital, available for adoption, when his mother returned to her home in Cleveland. He was adopted by Joseph Charles Plefka and Sylvia Mildred (Simousek) Plefka and renamed Donald James Plefka.
In 1955 Don Married Anne Marie Lawler (1932-2000) Generation 11 included Daniel, Anne Marie and Thomas Plefka. Daniel married Karen Buchler and they parented Nick, Kelsey and Ana. Anne Marie married Dominick Albano and they were the Parents of Dominick, Anthony, Marc and Joseph. Thomas Married Diane Marx who became the parents of Caitlin and Kelly. The 13 generation was initiated with the marriage of Dominick Albano to Sarah Nagy and the subsequent birth of Isabella Albano.
The Fam(ily) History tree shows historical events with the complete Copeland line in America down to my father. Partial family trees can be viewed. The Pre- 1700 tree includes information from Mayflower Families Through Five Generations, starting with our 2nd generation and including the Pricilla Mullins ancestry. The pre-1900 includes the ancestors of James Harvey Copeland, my great grandfather, including the line to John and Pricilla Alden and the line to Lawrence Copeland in England and the Townsend Family. The information for the Copeland families in England are from OneWorldTree and subject to verification and correction. The 1900's Tree show the descendents of James Harvey Copeland for three generations and includes my father, Alden James Copeland, (Al Copeland) Later generations are omitted to to protect the privacy of living individuals.
The trees require Acrobat Reader to be viewed and may be enlarged and printed.
The Newcomb Connection:
The Copeland family has a double connection to the Newcomb family. John Copeland (1658-1714), son of Samuel, married Ruth Newcomb. She was the daughter of John Newcomb and Ruth Marshal. Bethia Copeland, the daughter of John Copeland and Ruth Newcomb, married Thomas Newcomb. Thomas was the great grandson of John Newcomb and Ruth Marshal and thus a second cousin once removed to his bride. There was, of course a large age difference. See the Bryant Newcomb Pedigree Chart. My connection to this tangle of branches is that John Copeland was my 6th great granduncle, his father Lawrence, being my 7th great grandfather. The Newcolmb connection to our tree was discovered through the DNA match to a distant cousin. See mcinnyluwho below at "Cousins & Stuff"
I reflect back to the vacation trip that Anne and I made to Massachusetts and our visit to Plymouth. I remember the visit to the replica of the Mayflower and the re-created village there. We were in awe of the people who made that voyage in that fragile vessel and survived that first terrible winter. Little did we know that I had a connection to them.
I have often noted that many of the most momentous things of my life were unplanned, spontaneous and sometimes seemingly accidental. (my birth, in particular.) Such was the founding of Plymouth Colony. The Mayflower left Plymouth England bound for the Hudson River but was blown off course and ended up North of their intended destination. Thus they were ill prepared for the harsh winter that followed but a new community was born. A fortuitous accident.
It is also interesting to note that these people were religious radicals who thought the Church of England didn't go far enough in distancing itself from the Church of Rome. I wonder what these Pilgrim Puritans would think of their Catholic descendants? All this goes to the point that life is what happens while you are planning something else. God gives us the grace to take what comes our way and make the most of it. We have the God given free will to chose to react positively to life's surprises. Life continuously presents opportunities for happiness and success and for this I am grateful. Thank you God for all of it.
Thank you God for all the people who have been there to make my life possible. Thank you God for my ancestors and in particular Al and Lucille. I would not have been here without them ... and the happenstances of life ... the unplanned events ... the fortuitous errors ... and the choices made in response to all this. Thank you God for all the people who have been in my life, some like Joe and Sylvia, then Anne who were with me for many years and some who passed through very briefly but all who left me the better for their being here. Thank you God for all those who are now in my life, Our children, grandchildren, relatives and friends, some for a long time and others just entering.
Thank you God ... for everything. My prayer is that I may be worthy, and in the footsteps of my predecessors, be a light to guide the path of those who follow.
Cousins & Stuff
mcinnyluwho
A DNA match was made to a person only known to me as "mcinnyluwho". Bethia Copeland of his family tree was the granddaughter of my 8th great grandparents, Lawrence Copeland and Lydia Townsend. See Relationship Chart. This DNA match uncovered our connection to the Newcomb family. See The Newcomb Connection, above. This tangle of branches is made even more interesting in that "mcinnyluwho" is also related to me through the Bass Family.
candace_gooch
Another DNA match was found to "candace_gooch". This match is through Elizabeth Bent and the Fuller branch of the family. Our closest common relatives are Jonathan Fuller and Marie Elizabeth Wilmarth, my 7th great grandparents. See Relationship Chart. We are 8th cousins once removed.
lpflodin
This is another of the Ancestry DNA matches. She is related through Mary Copeland, sister of David. She is also related through a Chamberlain family connection and several other family lines. See Relationship Chart.
Donald James Plefka
aka Harry Ronald Cecora
Son of Alden James Copeland and Florence Lucille (Lossner) Cecora
November 25, 2006
Rev. April 17, 2013
Credits:
Historical information was gleaned from the following sources:
Priscilla, the eldest girl on the Mayflower, came with her brother Joseph, and parents William and Alice. Priscilla had one little problem--she was the only girl approaching marriageable age on a ship with well over fifty young and single men -- passengers and seamen alike. The Mayflower's cooper (barrel-maker), named John Alden, apparently won over Priscilla's heart -- for he decided to stay in America rather than return home to England on the Mayflower. They were married a couple years later -- a marriage which inspired the Henry Wadworth Longfellow poem, The Courtship of Myles Standish.

Note: Her parents and brother died in the first winter in Plymouth.
See Girls on the Mayflower:
http://www.sail1620.org/discover_feature_pilgrims_and_puritans_in_17th_century_new_england.shtml
It is interesting to note that OneWorldTree traces Pricilla Mullins ancestry back to the 4th centry AD.

John Alden arrived with the Massachusetts Bay Puritans (Sepratists) as a member of the crew who did not return to England with the ship. The Copeland family members were also Separatists who arrived in America about ten years later.. John Copeland is believed to joined the Quaker movement in America. Some definitions are in order. Obviously Puritans and Quakers did not agree.

Church of England – church governance dictated by bishops, contained people of Calvinist persuasion and Anglicans preferring ceremony and ritual

Puritans – determined Calvinist reformers working to "purify" Church of England so as to be consistent with Calvinist principles, began during the reign of Henry VIII (1509-1547)

Separatists – Puritans denied the authority of bishops and wanted total separation from the Church of England, began during the reigns of Elizabeth I (1558-1603) and James I (1603-1625)

Pilgrims – Separatists who fled to Holland (1607/8) and sailed on Mayflower in 1620

Massachusetts Bay Puritans – immigrated to Massachusetts during the reign of Charles I (1625-1649) and encouraged by a Puritan Parliament (1649-1660); Puritans never sought separation from the Church of England

Quakers – independent reformers practicing austere Protestantism; their missionaries and followers were repressed by the Puritans in the Bay Colony

See:: http://www.sail1620.org/discover_feature_pilgrims_and_puritans_in_17th_century_new_england.shtml

Pithole - Oil's Vanished Boomtown
Oil production was centered in the valleys of Oil Creek and the Allegheny River when the 250 barrel-a-day Frazier Well drilled along Pithole Creek came in. Numerous other gusher wells in this isolated part of Venango County attracted thousands of fortune-seekers to the area and a town called Pithole City sprang up on the Thomas Holmden Farm in May of 1865..It was said to be one of the wildest, filthiest, chaotic towns in the States.

By September, 15,000 people lived in Pithole which had 57 hotels, a daily newspaper, and the third busiest Post Office in the state, handling more than 5500 pieces a day! But Pithole declined almost as rapidly as it grew. A combination of oil running out, major fires at wells and hastily constructed wooden city buildings, and new wells in nearby places caused the population to shrink to less than 2000 by December 1866.

Today, little remains of this boomtown but cellar holes in a hillside meadow. Visitors may walk the grassy paths of former streets and view a scale model of the city at its peak in the Visitor Center.http://www.pittsburghdiary.com/oct/drake/pithole.html
Also see http://www.explorepahistory.com/hmarker.php?markerId=441
and Historical Chronology - Oil and Pithole City http://www.oilheritage.com/history/history.htm
Parkhurst Tilly Copeland farm of Pithole
This is a fascinating Copeland family story associated with the discovery of oil during the post Civil War era and oil boom in Pennsylvania. It is the story of Alden Parcus Copeland's brother Parkhurst Tilley Copeland and the fortune made in the sale of his farm. But he kept a small parcel that could have brought him even more money. He is quoted as saying, "What is the use of $750,000 to me without a farm. I did not buy this farm to sell it again, now that I am settled down with my family. There I have as much as I can live on. I have a good well of water and we can raise all the vegetables we want. I cleared the land myself and I am now going to enjoy it." It is very well told in the story of the Oil Creek Flemings. I direct your attention the their web page. http://www.fleming.oilcreekgenealogy.net/content/oild.html
The name Parcus seems to be a contraction of Parkurst, apparently a family name from the side of Joseph Copeland's wife, Sally Downer. Joseph and Sally used it in it's two forms in naming Alden Parcus Copeland and Parkhurst Tilley Copeland the later using the shorter version in his adult life.
One of the things that makes the study of these ancestors a bit confusing is the fact that although the Gregorian calendar was made official in 1582 and accepted by most Catholic countries, Protestant countries were slow to accept it. It wasn't until 1752 that Great Britain and its colonies adapted it. To further complicate matters, the old Julian calendar set March 1st as the beginning of the new year. As a result, the book on the Mayflower families uses both date systems. A date in February is often listed as 10 February 1690/1691. February was the 12th month of 1690 using the Julian calendar and the 2nd month of 1691 using the Gregorian calendar. I have tried to adhere to the Gregorian dates in order to be consistent with current calendars.