Anne Marie Montrym, Alexandra Menzer , Anton, Baby Alexandria "EL", Anthony "Tony" & a dog with wheels. Circa 1918
Girls did not go to high school so graduation from grade school was the culmination of their formal education.
Boys sometimes went on to get some high school education unless the it was needed for them to work to help support the family.
In 1929 Harry D Lawler and Anne Marie Montrym eloped to Crown Point, Indiana. Anne was 16 and Harry was 20. You could get married there by a justice of the peace at that age and there was no waiting period required. The marriage was predicted not to last.
On December 28, 1932 Anne Marie Lawler was born. Harry Daniel Lawler, II was born in 1938. Anne relates that in her early years her father drank heavily and often had to be helped up the stairs to their flat. It reached the point that she locked him out of the house which made an impression. After being allowed to return home, the drinking continued to be an intermittent problem but to a lesser extent. Knowing the history of his father-in-law may have been incentive to bring home his pay and be careful that he didn't endanger his marriage. He tried to take control of his drinking. He insisted that the children went to church with their mother.
The Wedding Photo that wasn't!

There was no photo taken when they eloped but a friend's wedding some time later provided an opportunity for a formal picture.

1936

"Big" Grandma
Alexandra Montrym,
Uncle Tony, & Aunt El
with Harry Lawler, Anne and
baby Anne Marie

1933

The family grows

Harry Jr. was born in 1938.
By this time, Anne had become "Cookie" and then "Cook".
Young Harry was "Sonny" and then "Son".
Harry told stories of his truck driving career. He had left the Grocery wholesaler to drive for a steel supply house, delivering steel beams, angles and bars to fabricators and construction sites. The drivers came in early to wash their trucks before their workday started. At first the trucks had open cabs with hard rubber tires and chain drives. Hot bricks wrapped in blankets were the only warmth in the winter and more than once he had to crawl under the truck in the snow to replace a broken link in the drive chain extending back to the rear axel. He also told of delivering a large beam to a construction site in China-Town and when he questioned the fact that there was no crane there to take it off the truck was simply directed to drive into the ally. Soon men came from shops and restaurants as well as from the building under construction, and lining up on each side of the beam, using ropes and slings, they man-handled the beam off the truck.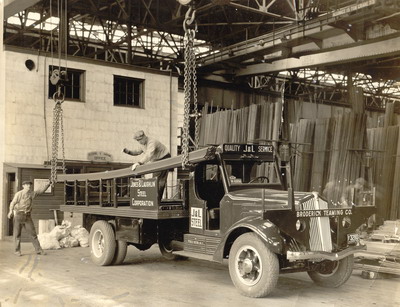 Harry was always sure that his truck was properly loaded
This "new" truck had inflatable tires and a drive shaft but still sported an open cab.
He refused to allow his wife to work, insisting that it was his obligation to provide for his family, In stead, Harry worked a second job, sorting packages from Sears Roebuck & Co for delivery the next day.
Grandma Montrym, or "Big Grandma" prospered with her grocery store and purchased a series of flat buildings in the neighborhood, always trading up. It fell upon Harry and her son Tony to maintain the buildings, always making improvements. This occupied Harry on weekends. She eventually bought land along the South shore of Crystal Lake, Illinois. Tony and Harry built a store with an apartment above it for her. It was the frequent weekend trip for the family while being built and vacation place afterward.
Anne as a little girl had many friends. They all enjoyed "playing" store in Big Grandma's real store. There were always treats too. That is where Anne got the nickname "Cookie" derived from her frequent requests. She also tells of the killing and cleaning chickens for customers in the dirt floor basement. The chickens were raised in the shed behind the store. There was "Mouska" the big cat who would catch rats in the basement and bring them up to trade for a scrap of liver. On one occasion a plumber had to be called in for a repair and as he started to work he placed his plumber's candle (to melt lead) on a rock in the dark basement. When the candle started to move across the dirt floor he ran out terrified. He had placed the candle on a turtle.
One day in the spring of 1942 Cookie was playing with a friend and cars went by blaring their horns. The friend remarked that it was a wedding and Cook said, "Yes, it's my mom & dad!" Cookie was about to make her first communion and her parents wanted to receive with her. They married for the second time with the priest officiating in the parish rectory. Her dad was officially back to church.
Cookie had a wonderful relationship with Big Grandma who was warm, loving and attentive to her. Little Grandma, on the other hand was more aloof and formal with her. Maybe its the "Bohemian" way.
Cookie told of visiting big grandma in the hospital. She knew she was dying and told her granddaughter how lucky she was to have such good care with clean bed. She said that her mother died on a straw mattress in a dirt floor shack in Lithuania. After Big grandma's death on March 11, 1947 Tony and his family moved in and ran the Crystal Lake store.
Cook & Son through the years
1941
?
?

April 26, 1942

"Cookie"
When Cookie was entering 8th grade, the family moved from Bridgeport to Mount Greenwood. Cook insisted on graduating from Healey School and rode the streetcars about 15 miles each way to do it. In spite of the fact that Chicago school regulations forbid attending schools out of district the principal often saw her waiting for a streetcar and gave her a ride. After graduation she would have liked to go to a Catholic high school with friends from her new neighborhood. The two impediments which prevented that was the cost and the fact that she had graduated in December. So she started mid term at Morgan Park High school. Her brother, Harry, Jr, "Sonny" on the other hand went to a Catholic high school because education was more important for boys. For the same reason, when Cook wanted to go to college she was advised to get a job. Women didn't need higher education to be wives and mothers.
My first hand relationship with Anne's mother and father is related to some extent in the pages of "How I Became Grandpa Don beginning with "The Lady of My Life". A link to that page is found at the top of this page.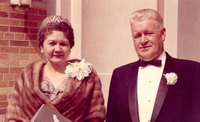 "They said it wouldn't last"
My family evolved with very close ties to Anne's parents. I was proud to call them Mom & Dad and they were in fact just that to me. Now that I think about it I have been blessed with three sets of parents. Birth, adopted and - by marriage. To my kids, Grandma Lawler, was "Big" grandma and Grandma Plefka was "Little" Grandma. And, like their predecessors, Big Grandma was the closer to them and the one they went to when in need ... especially our daughter, the third in the line of Anne Marie's. Big Grandma was always looking to help and advise but very careful not to intrude or be a burden. She was strong and resourceful, the manager of the family. Yet she was tender and loving.
In spite of, or maybe because of, Grandpa Lawler's rough start in life he had a strong sense of responsibility, continuing to drive the steel truck by day and work evenings sorting packages until he retired. He had trouble managing his liquor even after I knew him which was a constant worry of his wife and daughter. But after an illness that put him in the hospital in great pain he was told to quit ... and he did ... cold turkey, never to touch another drop of his favorite Old Granddad though he always maintained a well stocked bar for guests. In their later years, he and Anne were always at Mass on the weekends, the transgression by the pastor of his youth being put aside. He was a gentle man and always a gentleman, loved by his grandchildren and returning that love ten fold.
They had old fashioned ideas about thrift and the difference in need for the education of boys and girls but that was driven by the economics of their early life and strong belief in the traditional family. For a marriage that was predicted to be short lived they showed them all! After Big Grandma's sudden death in 1983 He was lost without her. That loss was emotional and practical, She had always managed the family finances and we found that Harry did not know how to write a check, We also found that the reason he had not accepted promotions to supervisory positions was that he felt that his writing skills were too poor to keep records. And so, he moved in with Anne and I until his death in 1987.