Joseph Charles Plefka was born on August 7, 1899 the youngest of three brothers. His brothers were Frank, born in 1891 and John born in 1892. Their parents were Vacek (James) Plefka, born in Bohemia in 1863 and Katrinea (Kate) Vanis, born in Bohemia in 1868. The family lived in an apartment at 4734 South Ada in Chicago, Illinois. in 1900. This was the "Back of the Yards" neighborhood, the place where many Bohemian immigrants settled. Joe's father was a meat packing laborer employed at the Chicago Stock Yards.
It is reported that Vacek left Bohemia at a time of German occupation when marriage licenses were not granted until after men completed 2 years of service in the Army. It is also reported that Katrina was 16 years old when she arrived in the US which would have been about 1884. It is not known if Vacek and Katrina knew each other in Bohemia or where they were married. But it is reasonable to assume that they married about 1890, probably in Chicago. They were both Catholic.
In his early teens Joe played tennis, earning a number of trophies. He also learned to play the accordion by ear. Joseph apparently had some high school education. He enlisted in the National Guard in December of 1916, at the age of 17, listing his occupation as "clerk". He related several stories of his army career.
While in training in Texas he was assigned to stand guard at the camp's water tower. Alone and in the dark of the night, it was well over an hour past the time to be relieved. Knowing he would have been punished for leaving his post and having no other means of communication, he fired his rifle in the air. That, as expected, attracted attention and relief. However, a short time later he was awakened and informed that he had shot a hole in the water tank. He spent a lot of time on guard duty as a result.
He came home on emergency leave, for his father's funeral in 1917. His brothers had married and his mother was alone. Since he had enlisted, he reasoned that it was his choice and simply did not return to camp. Of course, in a short time two military policemen came for him. He was returned to his unit and confined to the stockade with his pay and rank reduced back to the recruit level. Before his misadventure he had been playing the accordion at the officer's club. He was told that permission had been granted for him to be released at night to play for the officers and then return to his cell. His response was that it would not be right for him to have the regulations broken and he refused to leave his cell. His unqualified release came the next day and the officers had their music.
Shortly after that episode, the unit was sent to France. Joe was assigned as the company clerk and while at sea, preparing the payroll, he reinstated his own rank and pay. His commanding officer chose to not notice his actions and so they stood setting the stage for a further promotion.
On June 1, 1918 aboard the British transport HMS Scotian he was appointed Corporal in the 123 Field Artillery of the National Guard.
He related that while in Belgium during a lull in military activities his unit was camped near a large estate surrounded by an iron fence. He often found time to talk through the fence with a young girl whom he surmised was a servant. On his last visit there she confessed to be a princes. On another occasion in France, a grateful farmer invited him and a couple buddies to have dinner with his family. Having enjoyed the rare family meal and hospitality, the farmer confessed that he had not been able to get the promised rabbits for dinner and that they had consumed the family cats.
Joe and his unit participated in actions in the Argonne forest and at Verdun at times with the enemy trenches so close that at night they would converse with the German troops. On one occasion he crawled into an empty shell hole in the dark to asleep. In the morning there were two dead German soldiers there with him.
Corporal Joseph Charles Plefka

123 Field Artillery

1918

My dad was always proud to have served in WW I albeit with a somewhat rocky start.

St Mihiel
12 & 13 Sept, 1918

Great War For Civilization

Verdun
"Onne Passe Pas"
The following citations were issued to his unit:
The action at St. Mihiel resulted in this unit commendation: "For great devotion to duty and efficiency in advancing over muddy and difficult roads under the worse weather conditions and rendering at all times invaluable support to the attacking infantry, during the advance of September 12 - 13, 1918."
There was also a commendation telegram from General Pershing: "For immediate and consistent support of the infantry in a rapid advance against a stoutly resisting enemy northwest of Verdun and steady artillery offensive against enemy counter attacks, ever in most difficult terrain and against adverse weather conditions extending over fifteen days."
Another commendation from Chief of Staff Campbell King was issued for operations against the "St. Mihiel Salient" under the most adverse conditions.
On the 8th day of June in 1919 at Camp Grant, Illinois Joe was honorably discharged from the service. He returned home to live with his mother at 5218 S. Honore in Chicago. He was dismayed that his mother had disposed of all his tennis trophies.
Joe took a job as an engine dispatcher for the Rock Island Railroad. However, an engineer abandoned his steam engine near the roundhouse stating that a valve was stuck and he feared a boiler explosion. With the engine blocking the way of any other movement in the yard, Joe took it upon himself to take the initiative and move it. In his haste he failed to notice that the roundtable was not aligned to his track and he ran the engine into the roundtable pit. That was the end of his railroad career.
Note: This unidentified photo was found on the internet and although it is probably not his handiwork it illustrates the results of his action.
He found employment as a secretary, using typing skills learned in the army and he also learned shorthand to take dictation. In later years he was known to be a tough taskmaster with secretaries who were slow in taking dictation even to the point of having them dictate to him to show them how it should be done.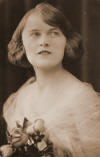 To Joe From Sylvia
(inscribed on back of photo)
Sylvia was born in Chicago on the 6th of March in 1903. Her father, John Joseph Simousek had been born in Chicago on December 27, 1874. Sylvia's Mother, Rose Kunrad was born January 26, 1876. Sylvia had two sisters, Kathryn, born in 1902 and Lillian born in 1901. On March 14, 1905 Rose Kunrad died and in 1907 the girls father married Cathrin Jecman, born in 1877, who had two sons from her previous marriage, James Jecman, born in 1901 and Joseph C Jecman, born in 1903. Catherin then gave birth to George Simousek in 1908 and John Simousek in 1910.
John Joseph Simousek entertained with a small group in his earlier years. The photo above was dated 1903 and close scrutiny reveals the sign on the building to read:
"Chicago Times Hearold"
"Outing Club"
John is second from left with concertina.
... also at right in this damaged photo.
John Joseph Simousek
and
Rose Kunrad

Circa 1900

Parents of
Sylvia Mildred Simousek
* The Chicago Times-Herald was published from 1895 to 1901 and changer it's name to the Chicago Record Herald, ceasing publication in 1914.
And so, Sylvia had two sisters, two half brothers and two step brothers. She told of her step mother telling her father that "Your kids and my kids are fighting with our kids." She went to the Catholic school at St. Cyril & Methodius church where she learned all her prayers in Bohemian. In later years she had to learn to pray again in English.
Their father suffered a stroke in about 1915 and with a paralyzed right arm was unable to work. Times were tough. As soon as they were able, the children had to work. The girls were taken out of school and found jobs in a hat making shop. Sylvia only had about seven years of schooling. She later found a better paying job in the bindery department of R.R. Donley, the big printing company. Their pay was turned over to their step mother and they were given their car fare (Streetcar) and their lunches each day. Lil rebelled and left home but Sylv and Kate remained until they married.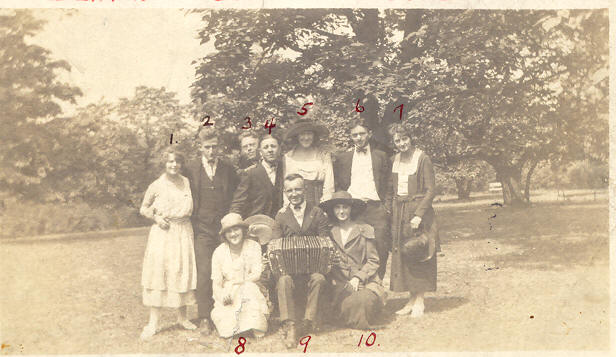 Some members of the Delmar Social Club. Joe Plefka is pictured with his concertina.
| | |
| --- | --- |
| | Joe was creative as shown on this hand made card given to his "Pal" Sylvia. According to the date written on it they became a "couple" on March 19, 1922. |
They were a fun-loving group as displayed in these photos.

To the left we have Sylvia, Joe and Kate Simousek.

Above is Sylvia & Joe.
In the family picture above, Sylvia and Joe are flanked by her parents John Joseph Simousek and her step-mother Cathrin Jecman.
Behind John is Sylv's sister Lillian Simousek.
Behind Joe is his mother Katerina Vanis
Behind Cathrin Jecman is Kate Simousek, Sylv's Sister
Standing to the right is Silv's step-brother James Jeckmen
Others in the photo are unidentified.
I assume that they met through the activities of the Delmar Social Club that met at Cornell Park. Joe Plefka and Charles Snyder were the best of friends and they met Sylvia and Kate Simousek. There were picnics, parties and trips to Starved Rock, museums and other attractions. Lillian Simousek also socialized with the group, met and married John Delaney.
Joe and Sylvia married on May 30, 1924. Joe had gone to work for the Peoples Gas, Light & Cole Company, later known as People's Gas or simply "The Gas Co.". I n addition to supplying the natural gas for the city of Chicago they sold gas appliances to their customers. Joe rose to manager of appliance sales in the 63rd Street store.
They wanted a family but nature refused to cooperate. A son Robert was born and died on June 10, 1927 and Joseph Jr. was born and died on November 27th, 1928
In 1930 they were living in the home they purchased at 5227 S. Francisco in Chicago. Sylvia's father lived with them but died late in 1930. In late 1930 Sylvia was pregnant again. In May of 1931 she went to Lutheran Evangelical Deaconess Hospital ( commonly known as German Deaconess Hospital ) but miscarried. While in the hospital they became aware of a baby boy in the nursery who had been born on May 6 and was available for adoption. Catholic Charities was contacted on May 26th and a case worker assisted in getting the paperwork processed. On June 5 after his biological mother had been contacted and signed a release form he was released to the Plefka family and was taken home. They named me Donald James Plefka. I was never told of the adoption, being raised as their own. There were at least two additional failed pregnancies before adoption and possibly one or more after.
The Great Depression was in progress and the sale of gas ranges and gas refrigerators decreased to almost nothing. Peoples Gas decided to simply get out of the business and closed their stores. Joe was out of work and there was nothing available. In an effort to save the house they rented it to Lil and her husband, Jack Delaney, an electrician for Commonwealth Edison Company. When winter came, lil could not (or would not) shovel coal to feed the furnace and they moved to an apartment. With no rent coming in to cover the mortgage payments the bank foreclosed and the Plefka family lost their house. In the mean time, they had moved into the first floor flat of the old Simousek house at 5013 S. Winchester. Sylvia's half brother George Simousek had married and was living in the second floor flat. That was the first home I remembered. I invite you to pick up that story in the first chapter of "How I became Grandpa Don". "Back of the Yards" (below) The storey continues from there.
Donald James Plefka
They said,
"Isn't she cute!"

Joe "Pelky" Plefka
Circa 1934

You will see that he is using the most modern communication device of the day. If you notice, you will see that it doesn't have any way to dial ... no buttons (They come many years later) ... not even those new fangled rotary dials. They weren't needed! You just lifted the ear piece off its handy hook and an operator asked, "Number please?" What could be more convenient. And if you didn't know the number you just gave her the name and location and she would connect you. The only place you can get that kind of service these days is in science fiction when Scottie says, "Computer, Hail the approaching ship!"

Sylvia took me all over the neighborhood in the deluxe buggy which converted into a stroller in later years.

Joe Plefka looked sharp in his American Legion uniform enhanced with the belt he obtained from a German prisoner in 1918.

The Plefka family over the years
During WW II while Joe was working in telephone equipment sales at Kellog Switchboard Co, a shop machinist said he looked familiar. They soon discovered that he was the German prisoner who in 1918 relinquished his uniform belt to Joe who was guarding him in route to the rear of the action. Joe still had the black leather belt. It was returned to it's former owner with a handshake and a hug.
Some time before 1940 Joe's mother had him arrested for non-support and he spent a night in jail. She wanted him to take her in to live with us. The Family Court ruled that all the brothers had to provide for her support and in it's ruling, based on the wisdom of Solomon, she spent a month in each one's home, rotating from one to another. We would go to Uncle John and Aunt Mary's and visit for a while and then bring her home. At the end if the month, Dad and I would take her to Uncle Frank's, ring the doorbell and leave her at the door. There was some kind of disagreement there. This went on for several years and grandma, who had not learned English, never attempted to communicate with me in any way. Her entertainment was to listen to the Bohemian language radio programs and go to cowboy movies. She died in the hospital in 1944 with bone cancer after her hip broke during one of the transfers from our house to Uncle Frank's. .
Joe was industrious, honest and loyal. His first concern was for his small family. He stressed the value of positive thinking and always doing the best you could with what you had. These values were observed and absorbed by me. Sylvia reinforced these traits and during much of her life worked to supplement the family income. He would never be late for any occasion insisting that we leave early enough that if we had a flat tire there would be time to fix it and still be on time. The family walked to church on Sundays and Sylvia made novenas often, taking me with on many occasions. I took religion to be a normal part of life. I was educated in Catholic grade and high schools. Guided by my parent's example, it never occurred to me that I would not someday marry and have a family. This was the natural way of things.
Joe died on December 29, 1952 at the age of 53 after experiencing a heart attract the previous evening at a family Christmas gathering at the Delany's. He had refused to be taken to the hospital by the firemen who responded to the emergency call and was preparing to go to work the following morning because he had to provide for his family. I was at home for Christmas leave from the Navy at the time.
At the time of my dad's death I did not know I had been adopted. It was not until the fall of 1962 that I discovered that fact .See "H R Cecora". (Below) We decided not to let Sylvia know that we found out about it. It was her secret and as she aged it became even more important not to upset her security, being totally dependant on her only child. Sylvia returned to work, finding a part time job with a large Chicago bank which turned into a full time job until she retired with a pension. Sylvia also took driving lessons while I was in the Navy and got her license. When I came home on leave, I found that she could not drive. She explained that after the (unsuccessful) lessons, her license came in the mail. At that time no photo was on the license and ... this is Illinois. She had bought her license through the well connected driving school but never did successfully drive a car.
Living on her own most of the rest of her life, always close to a streetcar line so she could go downtown she finally went to live in an assisted living apartment in Joliet with several friends and later with degrading health and several hospital stays, the nursing facility there. She died on March 8, 1992 just two days after her 89th birthday.
These were my parents, to whom I owe much as the only parents I knew and who, I believe, were a total success in life, good family people and pleasing to God. I wish that my dad had been with us for a longer period of time. I am sure that he was disappointed that I did not share his love for fishing and it would of been great if he had been able to see that I was on my way to a successful life. He knew Anne and they often rode the train to downtown Chicago on their way to work when we lived in Mount Greenwood. They liked each other and he would have been pleased to see us marry. I talk to him often.
Was life good when I was growing up? I'll let you decide based on my response to, "What do you want to be when you grow up, Don?" I always replied, "I don't want to grow up!"
Thank you God.
On the day I published this page, as I sat in the garden my thoughts were of my childhood. When I returned to the house and my computer, I included the following on my Current Events page of Aug 4, 2006.
My mind roamed through my life and the times with Sylvia and Joe ... at lake Zurich when dad fished, mom sat in the shade and crocheted and I swam or played in the sand. I thought of the visits with the Snyder's to Uncle John and Aunt Tony's farm in Indiana or Uncle Joe and Aunt Blanch's home in Grand Rapids. There were rides in the country with the windows down to cool off on hot summer Sundays. There were afternoons with dad listening to the Sox on the radio and me on the floor with my blocks, building incredible towers that mom would let me keep up until she had to clean. There were the times that I helped mom make hoska on Saturdays or during the war when my job was to mix the yellow food color into the white margarine because the dairy industry wouldn't allow the sale of the butter substitute pre-colored.
There was no TV or electronic games. "Electronic" was an unknown word. There were no organized sports for kids, at least not in my world. A vacant lot or the ally was our place for adventure and in the winter, I had my story books. I don't remember ever being bored but I do remember being told that children should be seen and not heard. Tents were built in the parlor using a sheet or blanked draped over chairs. There was adventure everywhere, limited only by our imaginations. I saw no advantage in growing up.