Florence Lucile Lossner
Lucie ( Tootsie ) Lossner was my natural mother. This is her story and that of her family. Part of it is in the form of a flash slide show. Below the slide show is a link to the Lossner Family Tree which originated in Saxony in the 1799
This is their story, as I know it.

Your return trip to ...
Free JavaScripts provided
by The JavaScript Source

German Ancestors


1st Generation - Carl August Lossner (From Gerda Lossner Eichelberg)
Carl August Lossner was born 15 Oct 1799 at Mugelin bei Oschatz, Saxony,Germany. He was married to Johanna Eleanora Fussel who was born in 1803. They reportedly had 6 children before before 1835 but little is known about these children. Two of the older sons came to America before the family did. One was on one of the Mississippi river boats and the family lost all track of him. The other went to Cuba and in some trouble there was captured by the Spaniards and was taken to Spain and nothing was ever heard from him again.
Between 1835 and 1844 the following children were born:
Henrietta Charlotte, 24 April 1835 - died Unknown.
Friedrich Ernst, 22 May 1837 (May have died as an infant)
Friedrich August, 28 June 1839
Heinrich (Henry) August, 29 June 1841
Anna Eleanor Ernestine, 01 June 1841. She married Christian Rinder.
The Lossner family came from Mugelin bei Oschatz, Saxony to USA, arriving at New York on 8 May, 1848 on the ship Emma from Bremen Germany. They located at Sheboygan, Wisconsin. Johanna died during the Wisconsin Cholera epidemic of 1853. Carl remarried later but we have no information regarding his second wife. Carl's last known occupation was that of interior decorating (Called white washing and stenciling.) In his later years Carl apparently stayed with various children. In 1880 he was living at Galena, Illinois and also at Cleveland, Ohio, He died at Madison, Wisconsin on 20 August 1886 at the age of 87.
Carl August Lossner and Johanna Eleanora Fussel were my 2nd great grandparents.
For additional insights see: Carl August Lossner, and his immediate family.



1st Generation -Rev. Fredrich Wilhelm Husmann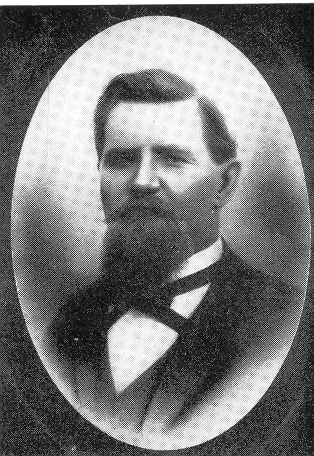 Rev. Fredrich Wilhelm Husmann (1807-1881) Born in Germany 1n 1807. Taught school in Bremen, Germany. He was recruited by Lutheran pastor Friedrich C. D. Wyneken to start a church school in Ft. Wayne, Indiana. On May 17, 1840, Teacher Friedrich W. Husmann arrived at Fort Wayne, where he became the first instructor of St. Paul's Lutheran School. Under pastor Wyneken's mentoring, Husmann began to study theology and Greek. Later he would preach at St.Paul's during Wyneken's absences and eventually serve as a missionary pastor among preaching stations established by Wyneken in Indiana..
He participated in a meeting in Cleveland at which several pastors broke with the Ohio Synod. In a Chicago meeting with other pastors in 1847 he was formally ordained and served as the first secretary of the new German Evangelical Lutheran Synod of Missouri, Ohio and Other States. The name was later shortened to Lutheran Church - Missouri Synod.
He continued to serve in Allen County Indiana until moving to Euclid, Ohio in August of 1863 to serve as pastor of German Evangelical Saint. Johns Congregation. There he assisted the congregation in the drafting of the rapidly growing church's constitution. Besides being the pastor Husmann established a school and taught until the congregation hired his son-in-law Heinrich August Lossner in 1875. Rev. Fredrich Wilhelm Husmann died in 1881 and is buried in the church cemetery.
This from the Christian Cyclopedia of the Lutheran Church, Missouri Synod:
Husmann, Friedrich Wilhelm (November 9, 1807–May 4, 1881). B. Nordel, Hannover, Germany; teacher in Bremen; responded to call of F. C. D. Wyneken for church. workers in America. by going to Fort Wayne, Indiana, 1840; mission teacher and pastor in and near Fort Wayne and elsewhere in Indiana and Ohio; 1st secy. Mo. Syn. 1847–60; pastor South Euclid, near Cleveland, Ohio, 1863–81.
Fredrich was married to Elizabeth Meinke (1820 - ????) They were the parents of: Lucy (1843-1943) Dedrick (1847-1907) Joanna (1850-1921) Susan (1853-????) Elizabeth (1855-????) Dora C (1856-????) Fredric W (1857-1948) Martin (1864-????) All the children were born in Indiana except Martin who was born in Ohio. Fredrich made at least one trip back to Germany, returning home on the steam ship Oder via Bremen, Germany and Southampton, England and New York, arriving on 5 Aug 1875. He was 67 at the time. In the 1880 census his occupation is listed as Doctor of Divinity. It is unknown if this was an earned degree or an honorary degree bestowed possibly during his visit to Germany five years prior.
2nd Generation - Heinrich (Henry) August Lossner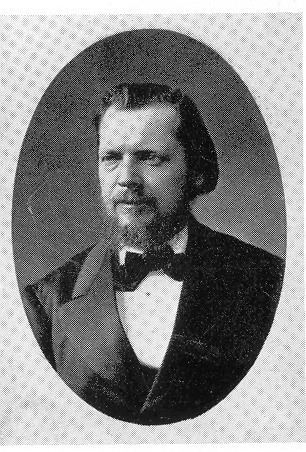 Heinrich (Henry) August Lossner Born in Mugeln bei Oschatz, (Leipzig), Saxony, Germany in 1841
Heinrich came from Mugelin bei Oschatz, Saxony to USA, arriving with his family at New York on 8 May, 1848 on the ship Emma from Bremen Germany. They located at Sheboygan, Wisconsin.
He taught school in Pekin, Illinois. Henry married Lucy Husmann in the early 1860's. As they traveled to various teaching positions their family grew: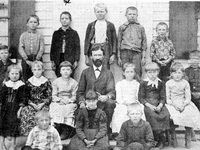 William was born in 1865 in Michigan
Martin was born in 1966 also in Michigan
Herman was born in 1871 in Illinois
Elizabeth was born in June of 1874 also in Illinois
Otto was born in November of 1876 in S. Euclid, Ohio
Richard Fredrick was born on 7 Sep 1880 in S. Euclid, OH
Walter was born in Sept. of 1883, also in S Euclid.
The Family relocated to Michigan before 1865. They moved from Michigan to Cleveland in 1872 where he taught at Trinity Church. The family apparently returned to Illinois where Elizabeth was born In 1875 they went to South Euclid, Ohio to teach at St John's Lutheran Church where he also served as secretary to the congregation and played the organ for Sunday services. This was to be their permanent home.
In 1886 Lossner left the teaching profession and established a general store near the church. He died in 1896 and is buried in the church cemetery.
Heinrich (Henry) August and Lucy Husmann were my great grandparents.
*********************************************
Noteworthy is a brother ... my 2nd great uncle.
Frederich August Herman Lossner was the older brother of Heinrich (Henry) August and the patriarch of another branch of the Lossner family. He was born 28 June at Mugeln bei Oschatz, (Leipzig), Saxony, Germany and died 29 January 1907 Marion County, Oregon, USA. He married Charlotte Frederika Klebe Island, Illinois, USA, daughter of William Klebe and Elizabeth Behrehs.

Fredrich was planning to be a doctor and started to study homeopathic medicine, not theology. While rooming with a Lutheran minister, however, he was so impressed with the man that he decided that he, too, would become a minister. His medical studies were not wasted in the ministry; he was frequently called upon to help the sick, since he was often serving congregations that were far from doctors.
According to a report by his daughter, Magdalena (May), while riding his circuit, he was taken into custody by soldiers fighting in the Civil War (which side is unclear). They planned to execute him by a firing squad until parishioners arrived on the scene and said, "That's our pastor!" He was also said to have killed a rattlesnake on one occasion for food when he ran out of food while riding his circuit.
[Source: Kevin Lossner, as told him by Walter Lossner]:
One time while he was riding his circuit, he was stopped by a small band of men who demanded he throw down his gun and his money. He said, "I have no gun, I'm a man of God travelling to my church." At that the apparent leader of the band advised him that travelling alone and unarmed was dangerous in those parts. Then he told the others to put away their guns and to ride on; he would catch up to them later. The stranger then rode along with Rev. Lossner nearly to the town that was his next stop. The stranger left him outside the town, and Lossner did his service and headed out to the next place. Outside of town, the stranger again emerged and rode along to provide protection. It's uncertain how long these protective services were provided, but at some point, Rev. Lossner began to sense that parishioners he had come to serve were avoiding him. When he asked what was wrong, he learned that they were distrustful of anyone who had Jesse James as a companion. [Corroboration of this tale may be possible from diaries of Herman that have been passed down along with sermons to Otto, then to Walter, then to Kevin Lossner. Because they are rolled and very brittle and written in German script, their rehydration and translation may be long in coming. (wdw, 2/1998)]
["The Heart of Missouri." 1954. August R. Suelflow. St. Louis: Concordia. pp. 54,59]: In 1861, Candidate Lange was traveling to Kansas to be a missionary. He met F. A. H. Lossner of Iowa City, Iowa, at the end of the railroad. "From there pastor and candidate set out in a buggy for the new field of activity, . . . arriving at Clarks Creek near Junction
City (Kansas), on August 13, 1861. Of this trip Lange wrote: 'We were under God's open sky day and night. We bought bread, as we needed it, from the settlers, and we brewed coffee wherever we happened to be.' The entire journey took them three weeks. . . . On his way back to Iowa City, Lossner stopped at Leavenworth, Kans., to conduct services
for the Germans living there. . . . Neither Lange nor Meyer could be immediately ordained for their work, and Lossner, too, was not ordained."

(Gerda Lossner Eichelberg) Frederich received his Theological Education as a Lutheran minister in Fort Wayne, Indiana and St. Louis, Missouri. Concordia, Springfield also lists him as an 1863 graduate who was ordained May 31,
1963. He entered the ministry in Marshallton, Iowa and also served parishes in Beecher, Illinois, Lake Zurich, Illinois, Fergus Falls, Minnesota.
He married Charlotte Frederika Klebe 1863 in Rock Island, Illinois, USA, daughter of William Klebe and Elizabeth Behrehs. Frederich and Charlotte were the parents of 12 children all born in Illinois:
Clara Alma b 1864
Laura b 1866
Ida L b 1871
Bertha b 1872
Hermany b 1874
Matta b 1875
Sophia F b 1877
August W b 1878
Otto F b 1879
Amanda E b 1884
Lydia C b 1886
In the year 1895 he accepted a call to Green Isle, Minnesota. He served that parish for 5 years.
[Lutheran Church, Missouri Synod web page, 12/97 URL: http://www.ni.lcms.org/tnl9703.htm]: Zion Lutheran Church at 11456 N. 11000E Road in Grant Park, (Illinois) is celebrating its 125th anniversary on Sunday, March 9, 1997. Zion congregation was organized on March 13, 1882. Under the direction of Rev. Herman Lossner, pastor of St. Paul Lutheran Church, Beecher, (Illinois), several men formed the small congregation, which has grown and prospered through the years. These men purchased two acres of land on which a building was constructed to serve a three-fold purpose: that of church, school and parsonage. It was constructed at a cost of $1,925, a small sum today, but in those days a large sacrifice for the families involved. Only German services were held until 1927, when English was introduced.
He served at a total of eight parishes in Illinois, Missouri and Minnesota before accepting the call at St. John in Salem, Origon. He also served the parish in Albany, Origon being installed there on February 6, 1900. Pastor Lossner was 60 years old when he was installed on Jan. 21, 1900.

Last Occupation: Lutheran (Missouri Synod) minister.
Died 29 January 1907 Marion County, Oregon
Cause of Death: Heart attack
Medical Information: Reportedly diabetic

Notes for Charlotte Frederika Klebe:
Came to America when she was 12 (Gerda).
A Mamie E. Lossner is shown by Portland City Directory of 1909 & 1910 as living at 270 E. 39th, Portland, Oregon in the house with Amanda, Bertha, Charlotte, and May Lossner. Her occupation is shown as a clerk. Charlotte died 15 Dec 1920.
3rd Generation

Richard Frederick Lossner 1880 - 1945
Richard was the sixth of the seven children of Heinrich (Henry) August and Lucy (Husmann) Lossner. He was born on September 7 of 1880. On the 25th of June in 1903 he married Clara Florence Packard. The ceremony was presided over by Rev. Fredrick W Husmann, Richard's uncle. They were lifelong members of St John's German Lutheran church in South Euclid, Ohio.
Richard was a shoe store clerk and became the store manager. Their children included: Florence Lucile born July 7, 1904 Richard Wilber Henry born June 11, 1905 Kenneth Edward born February 7, 1909 Chester Adelbert born August 19, 1914
Richard died August 22, 1945 at the age of 65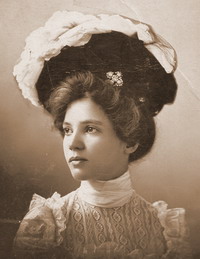 Clara Florence Packard Born June 22, 1882 in Cleveland, Ohio
Clara was the third child of seven of Henry Shepard Packard and Amanda M Milns. Amanda had been born in England in 1857. It is generally believed that all the Packard's in America originated with Samuel Packard (1612-1684) who arrived in Plymouth Colony via the ship Diligent in 1638. However, although we know of Clara's grandfather, Shepard Packard, born in Massachusetts in 1818, we have not been able to document his parents or grandparents.
Clara passed to Eternal Life on October 10, 1957
Richard and Clara were my grandparents.
My Mother - Florence Lucile Lossner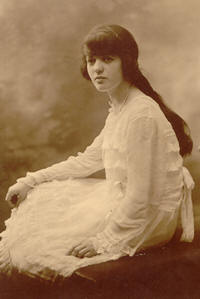 Florence Lucile Lossner - Born July 7, 1904 in Cleveland, Ohio
Lucy was the daughter of Richard Frederick Lossner and Clara Florence Packard, the first of four children and their only daughter. She seldom if ever used the name Florence, preferring Lucile or "Lucy" and was affectionately known as "Tootsie".
January 1, 1924 (Corrected 03/14/2015) she married Daniel Cecora, son of immigrant Italian parents and moved with him to live
with his parents in Auburn, New York. It was there on the 19th of February in 1924 that their first son was born in their home. It is reported that he was not breathing and his grandmother breathed life into him. She then took him to the Catholic church and had him baptized Anthony Daniel. The family did not stay long in Auburn but returned to Cleveland to live. Anthony Daniel was then known as James (Jim) Cecora. He didn't find out his original name until entering school. At that time he selected Robert as a middle name. While in the Army in WW II. It was legally changed to James Robert.
On the 23rd of September, 1926 Kenneth Richard was born. Apparently, Daniel had similar mother-in-law problems as did Lucile and/or there were other problems. They were divorced about 1929. Lucy and her two boys moved in with her parents.
Lucy kept company with Alden ("Al") Copeland, also divorced. The two apparently originally met while Lucy was in high school and visited relatives near his home. (See Poems.) They had lost touch from about 1919 to 1930. She became pregnant in late 1930 and was sent to live with a cousin and his wife in Chicago. She stayed at the home of Harry and Anna Marie Milns until the baby was born on May 6, 1931. He was named Harry Ronald Cecora. Arrangements were made for the child to remain at the hospital and to be available for adoption. Lucy returned home to Cleveland. Neither her two children nor any other family members were told of little Harry. For the story of Harry Cecora see Adoption.
There were other men in the life of Lucy Lossner: In June of 1939 she and Calvin W Tropf took up residence together with the two boys. They were family. There is no record of a marriage. Cal was a house painter and during the war he worked for Warner & Swasey, Machinery developers. Calvin died on November 16, 1945.
Lucy married Paul Shippy on May 25, 1950. He was a truck driver. They lived on a farmstead near Hiram, Ohio and later moved to an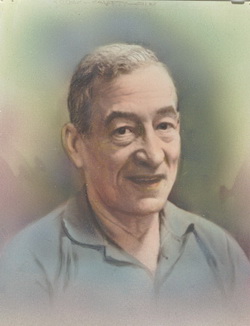 apartment in Bedford. Paul died on January 27, 1966. Paul had two children by a previous marriage, Eugene and Norma. Paul's granddaughter, Gloria Myers, says this about Lucy and the family ...
" Your mother was my grandmother from the time I was a baby. She was your typical grandmother. I can remember spending a lot of time at their house. We use to have all holiday meals at grandparent's house. Big long table, with Uncle Gene and his family, Mom and Dad and 7 kids, Uncle Bill, Grandma Clara until she passed, and many many more. Uncle Jim has the family albums with pictures in them of these great times. At Easter, she would put a note on the bottom of our plates and when we finished eating, we would take the note to the yard and start a hunt for our Easter present. One note would lead to another until final one was our present. At one time we lived in Grandpa & Grandma's house. Grandpa Shippy had an apartment in the garage next to the house. You went down the hill and Uncle Kenny and Aunt Ann lived in the house on the left, Grandma in the middle house, and Uncle Jim and his then wife in the house on the left. (sic) After Grandma Clara had her stroke and was bedridden, she and Uncle Bill lived with Grandpa and Grandma. Those were the good old days. I loved her very much. She was a beautiful woman."
What a beautiful picture Gloria paints! The Uncle Gene of whom she speaks was obviously her mother's brother, Eugene Shippy. Uncle Bill must have been my uncle, Wilber (Bill) Lossner, my mother's brother and of course "Grandma" Clara was my grandmother, Clara (Packard) Lossner. The Uncle Jim of whom she speaks was obviously my (half) brother Jim Cecora. But they did not live at the family compound but in Euclid during this time. I am told that Paul gave Jim a piece of land there but it was too far from Jim's work so they never used it. It was probably (Uncle) Bill Lossner who lived nearby. Grandpa Shippy must have been Jason, Paul's father. The Uncle Kenny and Aunt Ann were my (half) brother, Ken Cicora and his wife Ann. Ken had died in 2003 but I met and spoke with Ann at my first meeting with my Cecora/Lossner family. For me this was like another "family reunion". Grandma Clara did have a stroke, which took most of her language and put her in a hospital bed in the living room where Lucy (Tootsie) cared for her. Each time I get a little more information and in particular, a "Picture" such as this, it brings me a little bit closer to my family and what they were like.
Joan Stein, another of my brother's daughters, added a little about Paul Shippy ...
Or how about driving around in the country with Paul Shippy to either deliver eggs or pick up eggs (I can't remember which) from farmer neighbors? I remember that clearly. That, and the fact that Paul always asked "And who's this?" when he'd see me. He was good at keeping a straight face. Regards, Joan
There is more about this part of Tootsie's life from my cousin Gay (Lossner) Wands. Click here
And for a delicious treat see AUNT TOOTSIE'S MOSS BALL
In 1974,Lucy and Andrew "Andy" Palkovic became a couple but delayed marriage because of tax codes were unfavorable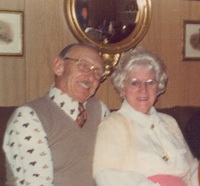 to those who married after retirement. After a change in IRS rules they were married. Andy had worked for Republic Steel as a crane operator. They first lived in her apartment and later bought a trailer home near Chardon, Ohio. Andy died November 3, 1989.
There is more about this part and the next of Tootsie's life from my cousin Gay (Lossner) Wands. Click here
Lucy remained in Chardon until moving to an apartment in Ravenna for a couple of years. She went to live with her son Jim and his wife, Peggy, in Cleveland in July of 1999. Tootsie, active for all her 98 years was born to Eternal Life on July 9, 2001 after a brief illness in a convalescent facility Rocky River, Ohio.
In Retrospect:
From what my brother Jim, his wife Peggy, and others have told me, my mother was a loving and caring person with a fine sense of humor right up to the end of her long and adventuresome life. For my part, I am immensely grateful that she gave me life and I know that her giving me up for adoption was the best thing she could have done for all concerned, including me. I would not have had it any other way.
A Family Story
This "flash" presentation is a snapshot of ...
The Cecora family into which Lucie Lossner married and had two sons.
The Packard, Clay and Lossner families in which Lucile had her roots.
And the story of Lucile herself.
Florence Lucile Lossner
"Tootsie"
The Ancestors of Lucy Lossner
An ancestor tree