.
Chapter 19
Grandpa's
Guardian Angel Garden
2001 - 2004
.

Contact
Grandpa Don

Recorded by Donald J Plefka (Grandpa Don)
October, 2010

This period, the years immediately after Anne was born to Eternal life, was, for me, a period of transition and learning. It was also one of progress and realization. Life goes on. We know that.
Journey on this page to ...

2001
2002
2003
2004

Your return trip to ...

Home ...
Highlights of the Week
How I Became Grandpa Don
Web Site Index
Main Page
Previous Chapter
Next Chapter
I was gradually finding my way and learning to live alone. Mikey had accepted me as his companion ... not his master. More importantly, my kids realized that I would be OK. I went out to eat a lot in the evenings and had frozen dinners the other evenings. There were sandwiches for lunch and either cereal or a toasted sandwich for breakfast. I would not starve, that's for sure. I don't know what I would have done without a microwave. I had all of Anne's pots and pans but they are never used, not by me. In August Rocco's Little Italy opened its doors on 159th St. and I visited at least twice a week. As I told Rocco, "I eat, but I don't cook." It is still my favorite restaurant for its Southern Italian comfort food. They treat me like family to this day. Of course, at the time I was pretty sure that I was at least part Italian so I fit right in.
I could not serve at funeral masses or preside at the cemetery services. It was emotionally too much for me. I thought I would take a temporary leave from that ministry but it turned out to be permanent. I did continue as a Eucharistic minister and put a lot more time into developing the parish web site. My friends at St Julie parish were very supportive as were my kids and neighbors. My family gathered at my house for my birthday and father's day. During the summer I used the pool a little but it just wasn't the same without Anne. The grandchildren did not use the pool as much without their grandmother to be there with them.
I went to their baseball and soccer games often. I did not want to give up that tradition and I wanted them to know that their grandfather was proud of their accomplishments. Children also need all the encouragement they can get. When I gave them a card for birthdays or other occasions I signed it "Grandpa (& Grandma)" She, after all, was still part of me. I do that to this day and can't imagine not doing it. Nick graduated from grade school this year ... time marches on.
I decided to plant a tree in the back yard. I hired a landscaper to fix up edging and shrubs at the front of the house and plant a maple tree along side the patio. Anne and I had bought a rustic swing in 1999 and I had pavers put in as a base for it and moved from the patio to a place against the east fence, near the new tree. That year, Dan and Karen gave me a statue of a beautiful guardian angel for the yard and I placed it under the new tree. Now I had one in Heaven and another to remind me of her in the yard. Its a nice image and reminds me of where she is but I know people do not become angels. They are separate and distinct creations of God.
I had one problem. If one of the kids called and I wasn't home, all the phones in the Chicago area started ringing in an effort to locate me before calling the police to check my house. I discovered that I could convert my Outlook Calendar to a web page. Great idea, now the kids could go on the web and see when I had a meeting or evening service at church. I got help from Kevin who was handling the parish email server in setting up my little web site. Problem solved? ... NO! ... Having my calendar on a web page was an invitation for thieves who could visit my house when they knew I wasn't there. The calendar was deleted. But I kept the web site. Deciding that there were many things that the family didn't know about me, Anne and the family. I started writing the story of my life, calling it "How I Became Grandpa Don". I also recorded my thoughts and beliefs. Not that I wanted to persuade anyone to my way of thinking, but just so they would know why I behaved and spoke the way I do. I also wanted to give witness to how God had worked in my life.
By this time the parish web site had outgrown the free space available through RC Net but I discovered that web space was available through the server for their recently installed email provider. The bonus was that the domain name "stjulie.org" was already set up for the parish for the email. I moved the parish website to the new server and it continued to grow. I enjoyed a lot of time at the computer. What else did I have to do?
In the spring of 2002 I decided to take down the pool. It was old and had leaks. The aluminum sides were deteriorating and the maintenance was too much for me. My landscaper was called in and he quoted a price. He removed the pool and the deck, then leveled the area and brought in top soil and edging materials. I then went to Cedar Rustic and purchased a gazebo. After the gazebo was installed the landscaper came back, planted two trees, put in stepping stone paths, a screen of evergreens on each side of the gazebo and the initial plantings. While they were still working and as I sat on the swing watching the progress, my eye noticed the angel near the first tree. Inspiration! I picked up the statue and moved it into the new garden and its name was born. "Grandpa's Guardian Angle Garden". Why don't you take a tour of the garden.
The flash video was made several years later (when I learned how) but is appropriate here. The plantings and decorations depicted in it had evolved from the original but you can get an idea of the original look from the photo at the right. This became the place where I relaxed and read when the weather was right. It was my private chapel, my place of reflection where my mind would wander to the times of the past. It is where I often had my morning coffee with God and Anne.
I was the recipient of an email from Tracy Quinn McLennan of Adler & Robin Books, Inc. They were going to publish "Great Things About Getting Older", a book that includes reflections on life by people in their 70's, 80's, 90's, and beyond. The publisher is Hyperion, the Walt Disney Publishing Company. The author of the book is Willard Scott, the weatherman from NBC's "Today Show." Tracy had visited Grandpa Don's World and extended an invitation to submit a paragraph or a couple pages for possible inclusion in the book. After consulting with my kids and doing some thinking I decided to give it a go. The problem was in boiling down my thoughts to something that will fit their limitations. It was an interesting venture on my part. I submitted my piece in June of 2002. The book title was revised to "The Older the Fiddle, the Better the Tune: The Joys of Reaching A Certain Age." My contribution to it was titled "I'm Having The Time of My Life Right Now". That was my 15 minutes of fame when it was published.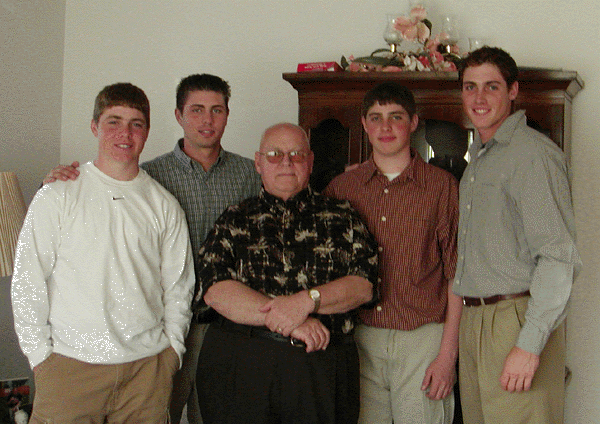 Anthony Graduated from Brother Rice High School and was drafted by the Minnesota Twins. However, he decided to accept a very generous baseball scholarship from Evansville University rather than be in the Twins' minor league system.
Our first grandson, Dominic Albano, graduated from Valparaiso University this year. As a matter of fact, he was the first of my immediate family to graduate from College. It was a milestone in my life as well as his. The photo at the left was taken after Dominick's graduation. I am shown with the boys and my walking stick. Joe, Anne Marie's youngest, was about to enter high school.
In the spring I decided that the yard needed more color and had the landscaper plant a Bradford Pear tree between the two Maple trees along the east side of the yard. The rabbits had all but destroyed the Almost Wild Rose bushes in Grandpa's Garden and so they were replaced by other perennials. The kids gave me some additional ornaments for the garden and hanging baskets for the patio. I just loved the ornate sun dial from Tom & Diane. It looked like it came from the mythical land of Middle-earth, the land of the Hobbits and fairies. (I had just read "The Lord of the Rings") The garden was evolving as was I. Years ago, someone had given us a tropical Hibiscus plant. It would be placed alongside the patio in the summer and put in the garage during the cold months. But over the winter of '02-'03 I put it in the living room and watered it every week. It thrived and bloomed. By this time I had named it "Biscus" so that when I went into the living room I would say, "Hi Biscus." That is what happens to a person who lives alone.
But, I was hardly alone. My family and friends were always there for me and with me. The family gatherings were sometimes held at Grandpa's House. Everyone brought food of every kind and I just opened the doors and let them do their thing. The toys were still in the "toy closet" in the finished basement. I never felt that the house was too big for me. I may have if I had to clean it but the cleaning lady still came every other week to handle that chore. The yard guys came every week to keep the lawn looking good. They also trimmed the shrubs twice a year and cleaned up the garden in the fall. I was on "easy Street". I even found Paul who washed all the windows, inside and out, and cleaned the leaves out of the gutters in the spring and the fall.
Anne Marie called me every day, as she had with her mother. Almost every Sunday I was at her house for dinner and when I wasn't, I was at Dan's or Tom's. I stressed that I did not want to become a "Sunday Obligation" but they insisted that it was not the case. At one point in our lives, that was a sore spot for Anne. My mother expected to be picked up and brought to our house for Sunday dinner. It became an "Obligation" for Anne and there were many times when things we wanted to do had to be set aside because of it. I follow Anne in her desire not to be a burden for anyone. It was her greatest fear and we all knew that she had died before that happened and doing what she loved to do, enjoying her grandchildren.
In September my Urologist was concerned and I had a Prostate biopsy. Fortunately, it was negative. But I was having trouble walking. I blamed it on arthritis and started using a cane. When people asked what was wrong I told them, "Every proper gentleman carries a walking stick." Since I was having trouble standing in one place for any length of time, I gave up being a Eucharistic Minister. I came to rely on the cane more and more ... getting old I guess.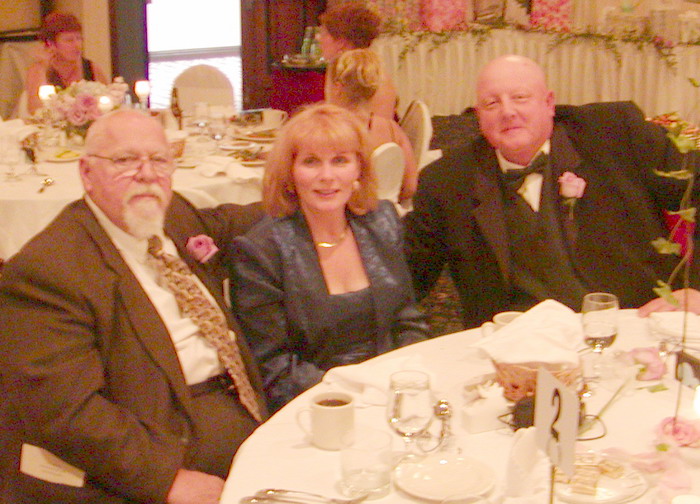 To go along with the cane and my advancing age I let my beard grow, a new look for better or for worse.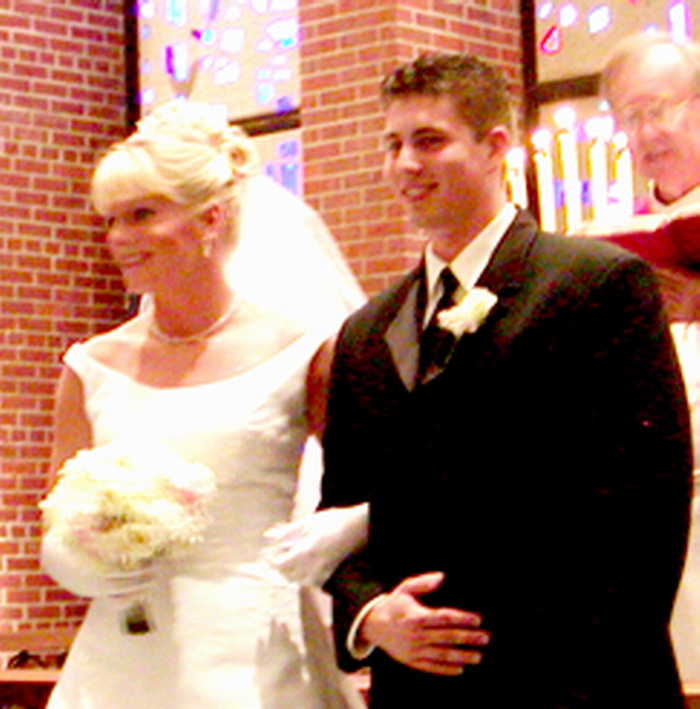 There was another "First" in the family. On October 25th 2003 my grandson Dominick married his college sweetheart, Sarah Nagy. We all went to their wedding in a suburb of Detroit where she lived. To the right we find me, sporting my new beard with my daughter and Dom.
Everyone could not get into one picture so we have a combined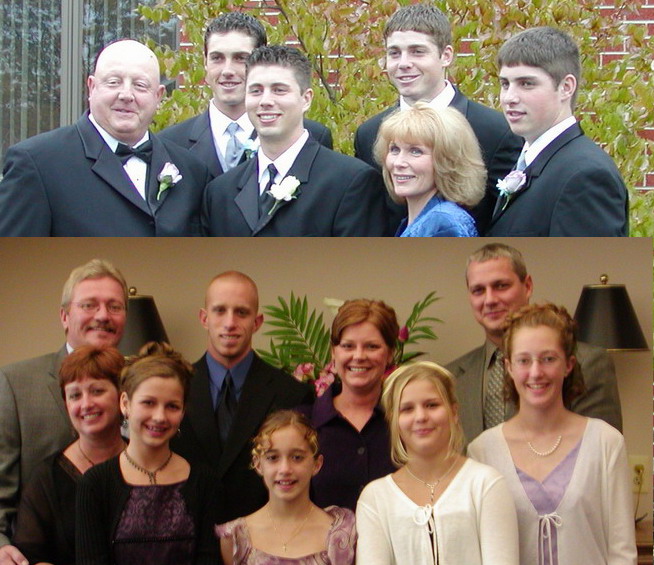 photos of all of my side of the family taken just before the ceremony. The Albano's are at the top ... Dom, Anthony, Dominick, Anne Marie, Marc and Joe. In the lower frame we find the Plefka families, Top row ... Dan, Nick, Diane, & Tom ... the bottom row ... Karen, Caitlin, Ana, Kelly and Kelsey.
It was a glorious affair. I was privileged to lead the prayer at the reception and Anne watched from above, as she always does now.
Dominick had landed a job with Comcast in the Detroit area and so they set up housekeeping in an apartment there. My little family was expanding in size and spreading out. And I was moving too. But just to Anne's room. We had had separate bedrooms for years with visiting privileges of course. But I snore and when illness came we found it to be more convenient for both of us. But now I found that my mattress was too soft and needed replacing but ... the one in Anne's room was relatively new and firm. Besides, it was a queen size (as it should have been) and there was the convenient attached bath room. I had given away or donated her clothes so the closets and drawers were empty so I gradually moved to the "Master" bedroom. And, wasn't I the "Master? This became my announcement for new email. Click on " Mail " ... Well ... a guy has to have some fantasies!
Marc graduated from Brother Rice High School this spring and went on to college in the fall. He opted to start at Moraine Valley College and of course was on their baseball team. What else ... he is and Albano.
Grandpa's Guardian Angel Garden continued to evolve this spring as some perennials failed to survive and others replace them along with new ones added to fill sparsely covered spaces. As usual, birthday and fathers day gifts helped in this effort.
In May, a Basal Cell Carcinoma was removed from my face. I told everyone it was a dueling scar. Walking and standing had become more of a problem and I was totally dependant on my walking stick. I had become involved with the RCIA ministry at St Julie, serving in various rolls, ... catechist, sponsor, and whatever they wanted me to do. I enjoyed helping to bring new people into the church and the parish. I told them I was a self proclaimed "Born Again Catholic", having just gone through the motions for many years and then finding my spirituality and a renewed deep faith. Years later I would still be asked to drop in on a session of new candidates and relate my story.
Dominick got a transfer to Chicago and they were going to rent until they could get a house. I had plenty of room so I invited them to move in with me. They could save the rent and get a home a lot quicker. They moved in and I hardly noticed. Sarah struggled to get certified to teach in Illinois although she had certification in Indiana and Michigan. She found an office job and she and Dominick would eat supper when they both got home from work, long after I had eaten. They bought their food and I bought mine. The bonus for me was that with Dominick, a Comcast employee, the cable and internet service was in his name and free. We set up a wireless network and their computer was in their room. Occasionally I would be startled when my printer would surge into life and shortly one of them would come down to get their printed results.
These were years of adjustment and readjustment for me. I discovered that I could survive and it was because of Anne that I could. Our years together were years of growth and maturing ... for both of us but, I think, mostly for me. She sparked my faith and my faith was now my strength. I am sure I could not have survived without it. Of course every year, indeed every day, is a period of adjustment. We adjust from what was to what is. We adjust from what we wish or expect, to what is. That is life. To fail to adjust to the reality of what is is to live in misery and dissatisfaction. It is in accepting what is that we can go on and find satisfaction and happiness in our lives. Yes, I am having the time of my life right now, today, not bemoaning what I have lost but celebrating what I had ... and where it brought me. Thank you God.

Previous Chapter - Next Chapter