.
Chapter 18
In Celebration of a Life
2000
.

Recorded by Donald J Plefka (Grandpa Don)
September 2010

This chapter includes just one year concentrating on one event. It is that important to me.
Journey on this page to ... Something of Beauty ...

Contact
Grandpa Don

Your return trip to ...

Home ...
Highlights of the Week
How I Became Grandpa Don
Web Site Index
Main Page
Previous Chapter
Next Chapter (soon)
New Years Day of the year 2000 came and went and despite the predictions by the pessimists, every computer in the world did not crash. Fixes had been made to all but the most ancient and most neglected computers to change from the shortsighted date system that relied on only the last two digits of the year to identify dates. For us, life continued as usual. We had suffered the loss of our old dog, Cleo, well over a year previously and Anne didn't want another dog. But that changed. By now I had got her into using a computer and she had one of her own. Anne did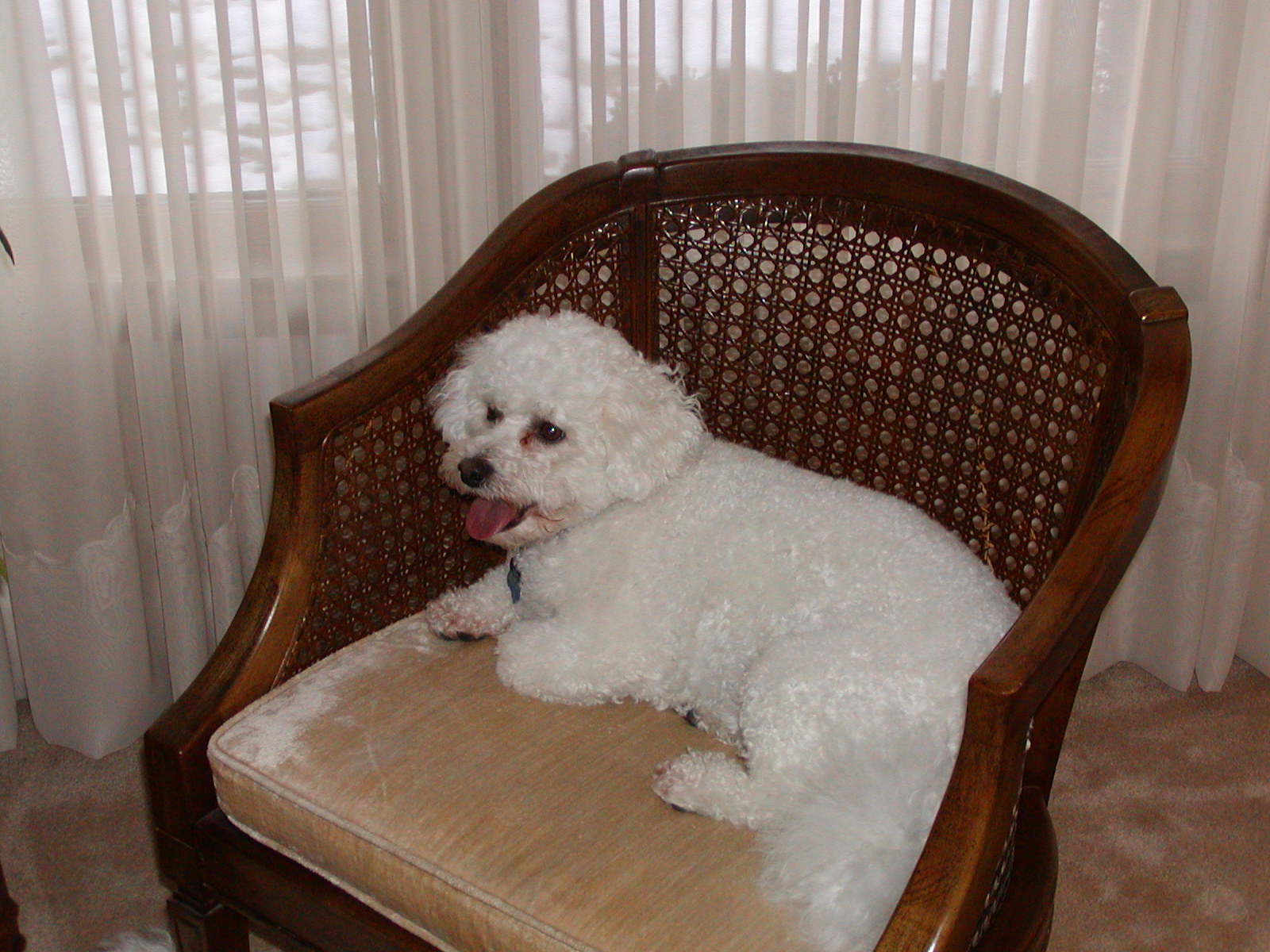 some research looking for a perfect dog. She decided that if we got another it would be a Bichon Frise. They weigh about 22 pounds, have hair, not fur, don't effect people's allergies, don't shed, are playful and even tempered ... and most important, are good with children. Their name, translated from the French to "Curly Lap Dog". After several false starts we bought a young pup we named Mikey and he became part of the family. Well, he was Anne's dog and he tolerated me. When brushed out for show, Bichons look like a powder puff with black eyes and a button nose.
Other than that, life continued blissfully along. It had been over 14 years since Anne's bypass surgery. At the time she was told that she could expect her heart to be good for another ten years. But after a recent thorough exam by the cardiologist he proclaimed that the new arteries looked like they had just been replaced. We had much to celebrate.
One of our unfulfilled dreams was to drive around Lake Michigan, stopping at the half way point to enjoy a weekend at the famous Grand Hotel on Mackinac Island. We decided to do that to celebrate our 45th anniversary. Reservations were made. I bought a new sport jacket and slacks so we could "dress for dinner". Then I bought a new car. I was going to get a smaller model than one of the big Buicks I had been driving. After all, Anne had the Riviera and we didn't need two big cars. But Anne insisted that I get the biggest and best so we drove home with a supercharged 2000 Buick Park Avenue Ultra with more bells and whistles than I ever dreamed of having on a car.
On the Monday, the 17th of July prior to the planned day of our departure we were at the ball field of Brother Rice High School. Anthony was playing right field as usual. We were sitting on lawn chairs along the 1st base line with Anne between her daughter and I. It was a beautiful day for baseball. Anne suddenly said, "I feel so dizzy". Her eyes rolled back and she was unconscious. 911 was called. The paramedics took her inside the ambulance and soon she was transported to the hospital with me sitting with the driver. I was not permitted to ride in the back with her as the paramedics worked to revive her. Anne Marie drove to the hospital. She had called her brothers. We were led from the general waiting room to a private room. I knew this was not going well. Soon Dan and Tom were there and in a short while someone came to break the news. We asked if we could see Anne and were led to her. The tears were flowing freely. I noticed that she was not wearing her watch or rings and when I asked about them they were given to me. I, in turn gave them to Anne Marie. They were hers now.
The following days were a blur to me. Someone stayed at the house for a while. I don't remember who, or for how long. Arrangements were made with the help of our children. There was a wake and everyone in the world seemed to be there. At the wake, a prayer service was held and I was presented with a large candle with the instruction to light it often in Anne's memory. (I have done that every day since, replacing the original uncountable times.) The funeral was on Thursday, Fr. Homa's day off. I had never known our pastor to make an exception, But for Anne's funeral mass he presided and he presided at the prayers at the graveside. The words that Anne had selected for the family monument were a comfort to me, "In Dying We Are Born to Eternal Life". Someday I would join her.
Somehow I got through the days, weeks and months that followed. It was tough for Mikey as well. He slept for weeks at the door to the attached garage, waiting and hoping for her return. Things that had to be done were done and things that were not urgent were not. I did not want for help or the comforting words of others, neither from family or friends. Neighbors brought food, and one of the ladies from church even asked if I needed her to come and do my laundry. I was prepared for this time although I did not feel prepared. Anne and I had talked about the fact that part of life was the inevitable fact that one partner of a marriage would die, leaving the other. She wanted to "go" first in the belief that I could survive alone better than she could. (She knew me as she knew herself.) She made sure that I knew how to do my own laundry and as a matter of fact, for several of the past years, she had done hers and I had done mine. Some weeks later I found, in her night stand, a pile of little booklets. I didn't know she had them but they were well worn. They contained mostly short inspirational poems and I felt that she knew that I would need them and left them for me. As usual, she was right, and I use them in my daily reflections to this day. At one point, a neighbor asked if I was going to put the house up for sale. I thought for a moment, instantly made the decision and replied, "No, the kids are going to do that after I am carried out of it."
And so, on July 17, 2000, Anne Marie Lawler, the lady of my life, was born to Eternal Life.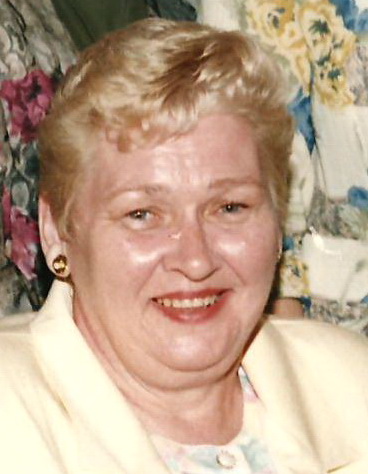 I would say that I had lost her but she was never mine to loose. Yes, Anne was my wife but she was so much more than that.
She was a daughter, the pride of parents who preceded her into eternity. She was a big sister to Harry and somewhat of a mentor to both him and his wife Carol.
She was niece to her many aunts and uncles, classmate and friend to those who knew her in her childhood days and beyond. To her brother's children, she was Auntie Anne.
Anne was "Cookie, and later shortened to "Cook" to her immediate family, so named for her addiction to the cookies in her grandmother's store in the Bridgeport neighborhood of Chicago.
She was my teen age sweetheart, the one who set the standard for every
girl I dated. She was the Lady of My Life. Always a cut above the rest in every way, becoming my wife and lover (in that order). She put up with me in all my faults and through her example and guidance went a long way into forming me into the person I am.
She was Mother to our three children and considered raising them the most important job of her life. (That meant I often worked two jobs in the early years but that was the way we both wanted it.) She cared for their physical needs, spiritual needs and their moral and scholastic education. They were her primary concern. Most importantly, she gave them love.
Anne was grandmother to nine and they were her pride and joy. They were to be encouraged and pampered and she felt that that was the prime job of a grandparent. Our home was always a place they would find love.
Anne was a person of faith. That faith may have been hidden somewhat in our early life together ... or maybe my eyes were closed to it. But her faith blossomed in the later years and it was contagious. It was her faith that sparked mine.
She was friend to many and her touch to friend or stranger always left a warm feeling of wellbeing.
She was a person, unique, not perfect, but none of us are. She was sometimes hurt and too often hurting but more concerned with others than with herself. She was a Noble Lady, and her goodness overflowed to those around her.
We Celebrate the Gift of Anne to each of us and to the world. We and it are better for her being here. God worked through her and she welcomed Him in doing so. Although we can't help but selfishly mourn her loss to us we thank God for lending her to us. Thank you God for Anne and all she has been and done. We indeed are better for her touch.
Some time after her death, Tom and Diane gave me a CD by Josh Groban. There is one song that says how I feel:
Thank You God ...
I Am Blessed
I Am Anointed
I Am Overjoyed

Previous Chapter - Next Chapter (soon)