My transition from employment to retirement was smooth and effortless. There was no fan-fair or party of any kind. I just went around to friends at the office and said, my fair-wells. Then I went home. There were no good-by's because I expected to see them all again since I would be consulting with the company on the Project Management project and probably be called in to help with large estimates. However there was a big change in our plans. Since KB was a closed corporation I assumed that the stock I had purchased would have to be sold to the company when I left. We would use part of the money to pay off the mortgage on the house and invest the rest. The downside was that some of that stock, with growth and splits, had been purchased for as little as $1 a share and now was worth well over $160 a share. Is that a down side? Well when you consider the tax hit I would take, indeed it was. However, I was offered the opportunity to exchange my stock ownership in the company for a five year note to be paid quarterly with 6% interest. This meant that I would not take a one-time income tax hit on the entire amount. It would give me 5 years of income which actually exceeded my previous salary. In addition, my neighbor, a financial officer for a large corporation, suggested I connect with Charles Schwab about an IRA account. I did and rolled over the money that I had in my Kelso-Burnett ESOP plan. Both the stock I owned outright and my holdings in the ESOP plan had appreciated in value a considerable amount due to the recent surge in the value of the company. I was on easy street! Of course, I did not pay off my mortgage due to the fact that I did not have the cash I had planned to use to do that from the sale of the stock. In addition, it would not make sense to do that since my IRA would be earning more than the interest I was paying on the mortgage.
A little while after my retirement I was invited to lunch with several executives of KB. They wanted to know when I would come back to help with estimating to which I replied, "Did you see me come here carrying a sign that read, ... Will work for food?". I did serve as a consultant for a while on the Management project but kept raising my fees to discourage them from calling me. I finally had to tell them that they needed to find someone else to do it.
Someone had told Anne and I a story. ... Molly said to her husband, Ed, "You have been retired now for 5 years. We never talk but when we do we are always arguing. We should go to church and ask God to take one of us ... and I'll go live with my sister." It's funny and sometimes too true. Anne and I worried that my retirement would be that way. It wasn't. We quickly adapted to me being around. That was probably because in the last years of my employment I worked at home so much. But we spent a lot of time together but also had our separate times.

At the left are Anne & Don with our "Kids".

Anne & I of course are seated.

The couples standing ... from left to right are:

Dan and His wife Karen

Anne Marie and her husband Dom

Tom and his wife Diane

Anne had gone from taking Communion to homebound parishioners to being the coordinator of the ministry, the Ministry of Care. I helped by setting up a database of ministers and recipients so she could keep records of people and assignments. I became a Senior Server. Since there was no school associated with St Julie there were no children available as altar servers and retired people, almost exclusively men, filled that need. After a time, Our pastor recruited some of us to also serve as "Cemetery Ministers". We would serve at the funeral mass and then go to the cemetery and lead the prayers at the chapel or graveside. With the shortage of priests, this would free them for other duties. Anne and I remained as Communion Ministers at Sunday mass.

To the right we have our nine grandchildren.

Standing are the Boys. Anne Marie's are the three on the left and the one on the right, Marc, Anthony, Dominic and Joe. The redhead second from the right is Dan's Nick.
Tom's girls are Kelly (standing) and Caitlin (right)

Dan's girls are on the left, Kelsey and Ana.

We enjoyed the events of our grandchildren. We went to as many of the baseball and soccer games as we could and of course there were school events such as plays, recitals and such. We had a very busy life and enjoyed every bit of it. We also enjoyed our home. During my working years we didn't spend a lot on vacations but invested in our home. It was always our plan that it would be our retirement resort, and that is what it was. Besides, from the very beginning of our marriage Anne had contended that if she didn't have it at least as good as at home, it was no vacation. Our home no matter it's size, was always our castle. We both enjoyed the 24' round above ground pool. Anne would get mad at me when, while floating in the pool with martini in hand, I would say, "I wonder what the poor people are doing?" We also enjoyed family visits and and having the grandchildren in the pool. People would ask if we traveled a lot and my response was that we didn't need to, "we live here".
When our oldest grandson, Dominick Albano, graduated from high school Anne suggested that Grandma & Grandpa provide his computer as he entered Valparaiso University. This was the start of a tradition that continues to this day. Computers, at that time were well in excess of $2,000 and it was something that we could afford a lot better than he or his parents.
These were, indeed, our golden years. We were financially secure and when we wanted something we just got it. That included a Buick Riviera for Anne. She was still, and even more so, The Lady of My Life and I had finally learned to be, for the most part, the man she needed. We were enjoying life to the fullest and bathing in the glory of the accomplishments of our children and grandchildren. There were the usual get-togethers for the holidays, many of them held at our house. We had the room for them and all the facilities. There was the pool, a big open yard for games, the finished basement with it's big "toy closet" and plenty of love to go around. Besides, Anne was still the best cook in the world even though she found it hard to cook for just two so we went out to eat a lot.
... there always are. In March of 1997 Dr. Doshi started me on medication as my "borderline Diabetes" advanced to be more of a problem. I was also very easily fatigued after any physical effort. We attributed that to the problem with my weight. In the spring of 1998 I started a project to replace the door on the storage shed in the yard. With the job half done, I had to stop. I simply had no strength to even lift the hammer and was having trouble just standing up. My neighbor, Bill Farrahi came over and finished the job for me. All I could do was watch and even that tired me. That prompted a visit to the doctor followed by a stress test which was halted midway through. An angiogram reviled heart artery blockages. On May 19, 1998 I was scheduled for quad bypass surgery at Christ Hospital in Oak Lawn.. It was determined that I had not had a heart attack. I had learned a lot from Anne's bypass surgery back in 1986 and was prepared having adapted her attitude and faith in God and the doctors. As Anne and our kids waited during a long delay before the surgery the surgeon came in and apologized for the wait caused by an emergency. I introduced him to Anne, my daughter Anne Marie, and my two sons, "the favorite one and the other one". We all had a good laugh, especially the surgeon. Obviously, everything went well. I left the hospital in record time due to my intense dislike of hospitals. I convinced the surgeon to release me early and after a very uncomfortable night at home decided I had left too soon. But everything improved rapidly from there. I was a new man ... born yet again ... and at Christ Hospital, the same institution albeit with changed name and location in which I was born 66 years and 13 days before.
In surfing the internet I ran across the website of The American Bible Association who's goal was to provide a web presence for every Christian Church in North America. Free web space was available and they provided the page setup. I took information from our weekly parish bulletin and set up a web site for St Julie Parish. Then I told our pastor, Fr Homa, that we had a web site. He said, "What's that?" I continued to update it with the self-imposed rule that all information would originate from the bulletin or other official parish sources. I began to learn the HTML code and soon wanted to expand the site beyond what was offered by ABA. That opportunity came with the discovery of RCnet, a Catholic server with increased space available and so I switched the site to their server and got web building software. Our parish site grew in size and content. It was time consuming but time is what I had. Besides it kept me "off the streets and out of the bars."
The rest of '98 and all of 99' gradually returned to the bliss of our golden years and all was well with the world. The grandchildren grew and thrived. I had a prostate biopsy in 1999 and it was negative so life was grand. Our untouched IRA was growing in value due to increases in the stock market so the future looked bright. Anne and I were in love with each other and in love with the world. We had been anticipating a good retirement but our dreams had been exceeded. She insisted that I should get a lawn service so I would not need to cut and trim the grass and I agreed on the condition that she get someone to come and clean the house every two weeks. After all, we could well afford it and we were retired. We were on easy street! For all this we were grateful to God and immersed in our work at church enjoying every minute of that as well. Our circle of friends at church continued to expand along with it.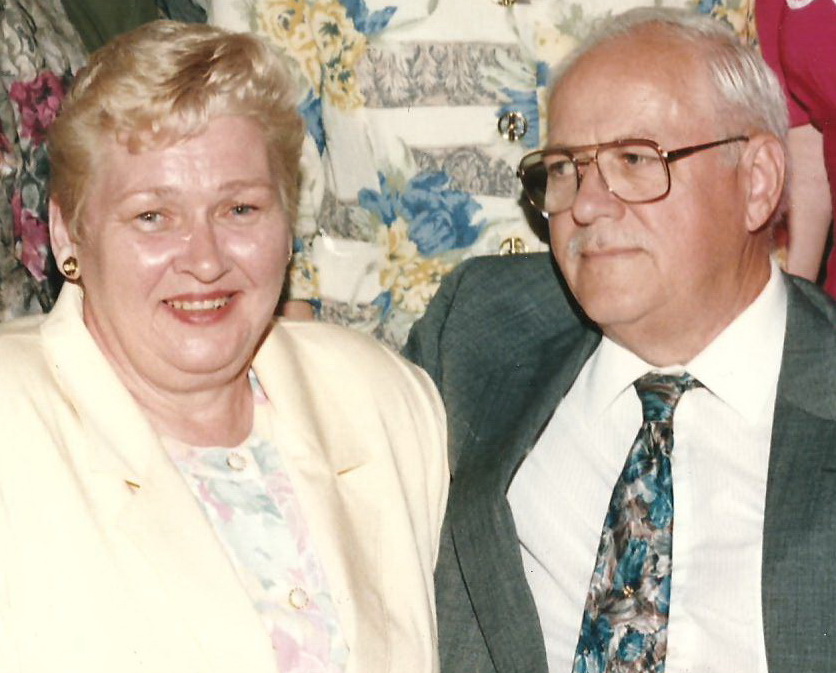 I kind'a like her ... do ya think?
We were in love and about to enter the new millennium. All was rosy.