Because I had high grades in math and science, a councilor told me to be a chemical engineer. I was accepted to the Illinois Institute of Technology. What a blow! I had breezed through high school, doing my homework in class and had no study habits. IIT was a disaster and chemistry was a worse puzzle than religion.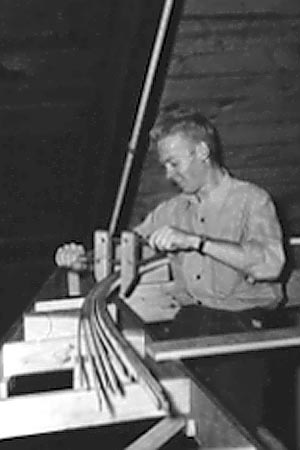 IIT Model Railroad Club
Dave is Building a curved roadbed.
Wood was cut into thin strips and the first one allowed to take a natural curve, with a gradual change from the straight section into the bend. Then additional strips were glued to the first.
I did learn something. A professor said that "You could do anything if you knew where to find the information and that you couldn't push a rope". It was the most important thing I learned in class that year.
I spent a lot of time at the Model Railroad Club where I achieved a good basic knowledge of electrical circuits and control wiring. This part of my education was invaluable and put to use later in life in a way I never expected.
. I had pledged to a fraternity and that saved my social life when Anne dumped me (The other story)
I spent a good part of my life blaming Leo HS for not preparing me for college, but it wasn't them, it was me. Leo has a very large number of grads who were very successful in many professions. I recently passed up my 50th Class reunion because I have never been back there since graduation.
Members of the Model RR Club went to the National Model Railroad Association's convention in Milwaukee. We had bought tickets to ride one of a series of excursions on the local interurban rail line but overslept. By the time we got up, we had to chose between going to breakfast or on the trip. We chose breakfast. The train that we would have been on was made up of wooden cars. It was in a head on collision with a steel car train and the wooden cars were destroyed with many killed or seriously hurt. (Someone was watching out for us but I didn't know!)


The wreck in Milwaukee
The train with the steel cars 'telescoped' through the wooden car train.
I had an after school and weekend job at the House of Trains repairing American Flyer engines. They were located near 47th and Cottage Grove and people came from all over for the antique electric trains that were on display. The owner operated the House of Trains on one side of the store, a luggage and leather shop on the other and a pawn shop in the rear. I worked in the dingy basement. The owner would press a buzzer when he wanted me and I would go up to get a customer's engine for an estimate of repairs. Most wouldn't work because they were over-oiled. I would go down, give it a bath in carbon tetrachloride and run it on the test track. Then go up and tell the owner it needed to be cleaned and oiled. I could have finished the job in five minutes but the customer would be told to come back in two days. We went to the local lunch counter for dinner and were the only white people there. On Sundays the owner's wife brought Kosher sandwiches. She really knew how to make a sandwich. They were great people to work for and I was getting a taste of diverse cultures.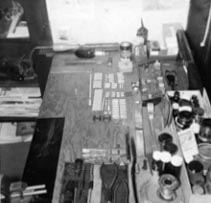 My workbench at home
preparing to build a RR car.
I include this photo to show that everything had to be neat and organized. That was my attitude about everything. My religion did not fit this scenario. It was a puzzle that I could not solve.
Sigma Phi Epsilon fraternity was located in one of the old mansions on Michigan Avenue. I became a pledge and had a lot of fun. There were fraternity events, dinners, dances and the pool table and ping pong tables were a great diversion. I did not let studying interfere with fun. There were dates with a number of girls including Gloria. I think she liked me, but I always felt out of my class when I went to her big house in the Beverly neighborhood with the grand piano in the living room. Her father was a member of Beverly Country Club where I had been a caddy. Besides, she wasn't an Anne.
At the end of my first semester, I switched from Chemical Engineering to Economics but at the end of the year I was on probation. I could not become a member of the fraternity.
I went back to my summer job at Rheem Mfg. Co. and in August, I asked if I could stay and became a permanent employee. Mom and Dad were not as disappointed as I thought they would be. When I told them, Mom said, "Oh!, I'll be able to buy a new wash machine." In the spring of 1951, I decided that factory work was not for me and I quit my job. My boss arranged a 6 month "leave" and said to come back if I didn't find what I was looking for.
I got a job as a clerk at the Rock Island Railroad's main office. The job came with a free pass on the commuter line. The engines were diesel now and the coaches were steel. The wide doors were in the center of each car. But in the winter you froze because the doors would freeze open and in the summer you roasted because the air conditioners broke and the windows were sealed shut. Our office kept track of all the freight cars on the system. We were the ones that had to tell people where their carload of widgets was if it was late. The offices still had spittoons next to the desks. Men were permitted to smoke or chew but women were not. I worked there almost six months and hated it.
I met Bobby Jo there and dated her for a while. She came from Hamburg, Arkansas to live with her sister and "find a man" in the big city. On our first date I took her to the Capitol Theater at 79th and Halsted. She said, "This show is bigger than the whole town of Hamburg !" I felt like a BIG man. Mom and Dad didn't like Bobby Jo very much.
When I finally had enough of the Rock Island, I quit. I was too proud to go back to the factory job and admit I made a mistake. I decided to try mechanical drafting because I had taken courses in drafting at Leo and at IIT. After a few weeks of searching, a prospective employer said, "If you had one leg, I would hire you." He went on to explain that my draft rating was 1A, the Korean War was going on, and I could be drafted at any time. I went straight from there to the Navy Recruiting office. It was the only way I knew to dodge the draft and insure three hot meals a day and a dry bed in which to sleep.
Bobby Jo couldn't understand my decision. She said, "There are places in Arkansas where they would never find us". (Another good reason to enlist) Dad thought it was a good move and so did Mom. On March 29, 1951, I reported for duty and started Boot Camp at Great Lakes Navel Training Station.
Sorry for the lack of photos for this chapter. Pictures that I took during this time were either model railroads or real railroads. I was not participating in family outings and didn't do any "date" pictures. Why should I ? None of the girls were Anne.

Previous Chapter - Next Chapter
What was happening in the world during this time?