In the summer of 1944 we moved into small home in the Mt Greenwood neighborhood on the far South side. Since the war was still going on, the electrical system was minimal. There only was one outlet in each room and we had to be careful that we didn't use the toaster and the coffee pot at the same time. In the basement you could see the open wires strung through porcelain tubes or supported on porcelain knobs.
Although in the city of Chicago, the people referred to the shopping area around 111th and Kedzie as "The Village". The Parish and School was St. Christina. Our street had no street lights and nearby Central Park Ave still had gas lights. Dad couldn't get enough ration coupons for gas and tires so he sold the car and took the bus to work. A trip downtown was made on the Rock Island RR. The couches were made of wood and were pulled by a steam engine. In the winter you froze and in the summer you roasted and were filthy because the soot would come in the windows (even when they were closed).
In the summer, I continued to caddy at Beverly Country Club. I went to the old St. Christina school on 111th and Central Park. It took some time to get new friends and some of the kids in the class were a tough bunch. The toughest one though was Sister Dionysius. Unruly kids could expect to be hit on the head with a book or slammed in the jaw by an uppercut. She said she hated teaching girls because they cried too much. A lot of our time was spent going the parish hall and arranging chairs for parish events. If you want to know more about things at that time, read "Do Patten Leather Shoes Really Reflect Up" by John Powers. John was a few years behind me at St. Christina and his book is an accurate story of people and places I knew.

Graduation from
St. Christina Grade School. 1945

One of my uncles worked at the Stock Yards. He was able to get the wood from used packing crates. My dad and I built the fence (photo at left) using this lumber. We just painted over the sometimes sticky animal blood.

When graduation time rolled around, a group of the kids decided to go to Riverview park as a graduation outing. It was to be a 'couples' outing and at first I wasn't going to go. But then, one of the guys disappeared! He had a bad reputation and had run away from home before. That left Janet without a date so I asked her to go with me. She accepted but just before the outing her original date returned and she went with him. I was disappointed but relieved at the same time because I really didn't know how to act on a 'date'.

I enrolled in Saint Leo High School. It was a long streetcar and bus ride from school to home but there were friends and it was fun.
My interest in model railroads blossomed now that I had a basement for a permanent layout. At first it was Lionel O gage and then I went on to HO gage models. Dad was very handy with tools and helped build a table for the trains. I made scenery out of wood forms, old window screens and plaster or paper machete. I started building my own railroad cars from kits and even built an engine.
High school was easy for me (except for Latin). I played flute in the orchestra and marching band. Not that I loved it that much, but it kept me out of gym class.
Leo was a Christian Brothers of Ireland school. The brothers kept us in line with a sturdy ruler across the hand or a slap on the head with a hand. A few of them would get an unruly student back on track by inviting him to the gym for a round with the boxing gloves on. The Brothers never lost. It was there that I changed my nationality the first time. Bro. O'Hara told us that "If you aren't Irish by birth, by the time you graduate you will be Irish by indoctrination."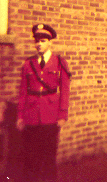 First Flute
Leo HS Band
While at St. Leo, I began to think about God, Church and religion in general. It did not add up. I had developed a very organized and analytical thought process and my religious teachings did not fit well. There were too many inconsistencies and too many "man made" rules that did not make sense to me. I came to the conclusion that most of the rules were simply to "keep the peasants in line". I was reading a lot of science fiction and considered it quite possible that God was actually an alien astronaut or that gods were invented by clever strong men to help them rule. But. I didn't say anything because I wasn't sure about anything. I just kept trying to solve the puzzle.


Don, Mom & Dad

At the end of the war, Dad got a car and in the summer, we went to a lake or river every Saturday. Dad loved to fish but he couldn't get me interested. I went swimming. Mom sat on the shore and sewed. I remember one of Dad's favorite fishing spots at Lake Zurich had a sign at the entrance that read "Gentiles Only". Dad didn't go there for that reason, he was not that way. It was a "sign of the times".

On summer Sundays we took rides in the country with the windows open to get cool. There was no air conditioning at home or in the car. On hot nights the movie theaters were very popular because they did have air conditioning.

There were picnics and outings with Uncle Charles, aunt Kate, Ken & Bob. We also continued to take an occasional trip to see relatives on the farm and Grand Rapids. There were also trips to Starve Rock State Park. That was an adventure that I loved.
Mom had a job at a small printing company and always seemed happy about her work. The five employees and owner were like a family and all knew about each others problems. Mom had several miscarriages before and after I was born but I was never told about them. She also had a number of operations, but again, I was not informed about them. Dad's health was not good. He always had pain in his legs. One day, after becoming very sick, his doctor put him in the hospital for treatment of ulcers and pneumonia. After a week in the hospital, Dad had us help him get dressed and he walked out. The next day, he went to another doctor who, after some tests, told him that two valves in his heart were not working properly. There was no other problem. At that time they were just beginning to do heart valve replacements. With a 50/50 chance of survival of the operation, Dad said "No". Besides, there was a money problem.
While in high school I started dating a little. I was very shy and it was difficult for me ,especially after I asked Anna May out to a school play and when we got back to her house she told me she was really her twin sister, Margaret Ann.
It was only after I met Anne Lawler that my social life improved. It was great! My Dad taught me to drive and I got my drivers license. There were movies, football games, and school plays. There were formal dances at the Palmer House, and The Edgewater Beach Hotel. I just doesn't get any better than this. I was in love. (I will have a special page about Anne.)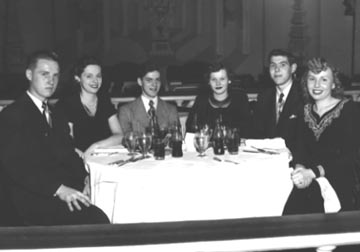 George, Carol, Don, Anne, Skip, MaryAnn
Boulevard Room of the Stevens Hotel (now the Hilton) 12/31/1948
Between my junior and senior years, a family friend got me a job as a summer vacation replacement at a manufacturing plant. I worked on a water heater paint line. I went back there after HS graduation. It was a very dirty job but the pay was great. We worked on a "group piece rate system". Production of a given number of heaters each day was set as the "normal" output. If 20% more were produced everybody on the production line got 20% more pay. Your fellow workers were real upset if you did something to slow or stop the line. The head painter was a black man who befriended me. At times he would spray me with black paint (we were covered in paint anyway) and say he was making me one of them. I would respond with the white paint.
The first television sets started to become affordable and Mom and Dad bought one. The picture wasn't that great with the "rabbit ears" antenna and there was always "snow" on the picture. You would always be adjusting the tuning knob and the picture was often distorted. When not broadcasting a program, the stations would put on a "test pattern" so you could adjust the height and width of the picture. The pictures were black and white and so small that some people bought magnifying lenses which introduced more distortion. The shows were all "live", not taped in advance, so the actors and news broadcasters made mistakes for all to see. We never dreamed of a thing called a "remote control". The big thing in music were the 33 rpm records with five to eight songs on a side. These "albums" replaced the 78 rpm disks with one song on each side. "Singles" were also available for a time on small 45 rpm records. All these records were prone to scratching and ware and if not handled properly would ware out soon. "Portable" radios were as big as the present "Boom Boxes" but the sound was feeble. Stereo sound was still a few years away.
By this time there were electric street lights on our street and the gas lights were replaced on Central Park. I graduated from Leo in 1949. That starts another chapter.

Previous Chapter - Next Chapter
What was happening in the world during this time?